Alasdair Gray Quotes
Alasdair Gray Quotes
...there were certain chapters when I stopped writing, saw the domestic situation I was in and thought, "I don't want to face this world, let's get back to the hellish one I'm imagining.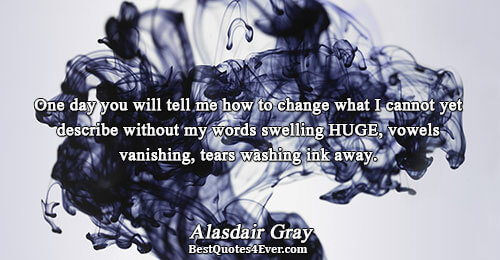 One day you will tell me how to change what I cannot yet describe without my words swelling HUGE, vowels vanishing, tears washing ink away.
Work as if you live in the early days of a better nation.
You, dear reader, have now two accounts to choose between and there can be no doubt which is most probable.
Baxter knows a lot more than I do, I told her.
Yes, said Baxter, but I will never tell people all of it.
Metaforen är ett av tankens väsentligaste verktyg. Den belyser vad som annars skulle ligga helt i mörker. Men denna belysning blir ibland så klar att den bländar istället för avslöjar.
I don't think anybody should read anything except for fun because you won't learn anything unless you enjoy it.
Numai religiile proaste sunt dependente de mistere, așa cum guvernele proaste depind de polițiile secrete - Goodwin Baxter
She is the swelling sail, trim rigging and bust sunlit deck of our matrimonial yacht. I am the low hull, with the invisible ballast and keel.
Besides, a life without freedom to choose is not worth having.
I clenched my teeth and fists to stop them biting and scratching these clever men who want no care for the helpless sick small, who use religions and politics to stay comfortably superior to all that pain: who make religions and politics, excuses to spread misery with fire and sword and how could I stop all this? I did not know what to do.