William Shakespeare Quotes
Biography

Type: Playwright, Poet, Actor

Born: Baptised 26 April 1564 (birth date unknown)

Died: 23 April 1616

William Shakespeare, often called the English national poet, is widely considered the greatest dramatist of all time. William Shakespeare was baptized on April 26, 1564, in Stratford-upon-Avon, England. From roughly 1594 onward he was an important member of the Lord Chamberlain's Men company of theatrical players. Written records give little indication of the way in which Shakespeare's professional life molded his artistry. All that can be deduced is that over the course of 20 years, Shakespeare wrote plays that capture the complete range of human emotion and conflict.
William Shakespeare Quotes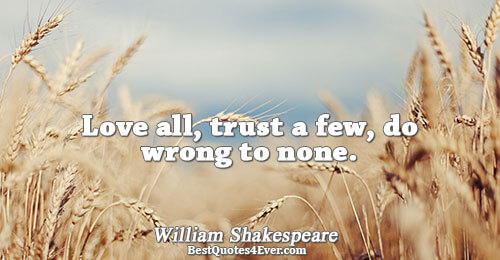 Love all, trust a few, do wrong to none.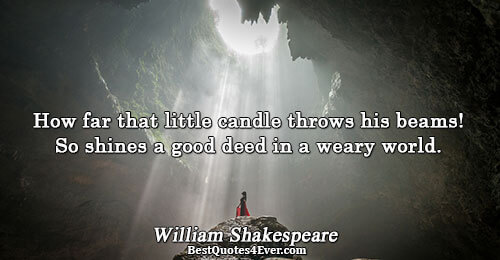 How far that little candle throws his beams! So shines a good deed in a weary world.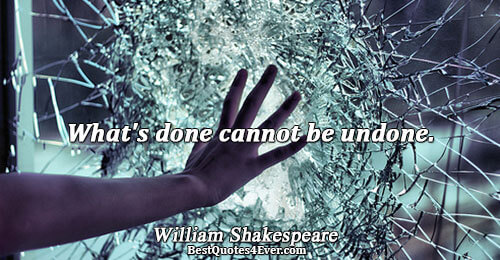 What's done cannot be undone.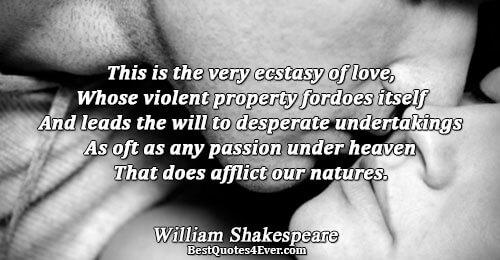 This is the very ecstasy of love,
Whose violent property fordoes itself
And leads the will to desperate undertakings
As oft as any passion under heaven
That does afflict our natures.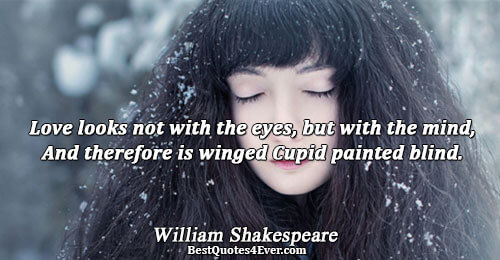 Love looks not with the eyes, but with the mind,
And therefore is winged Cupid painted blind.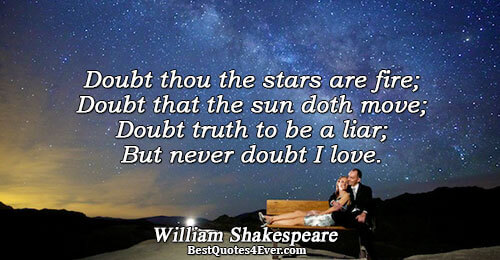 Doubt thou the stars are fire;
Doubt that the sun doth move;
Doubt truth to be a liar;
But never doubt I love.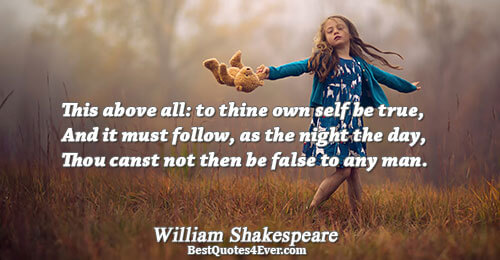 This above all: to thine own self be true,
And it must follow, as the night the day,
Thou canst not then be false to any man.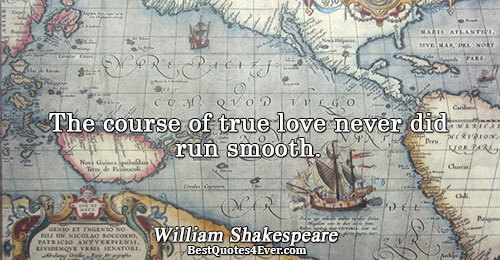 The course of true love never did run smooth.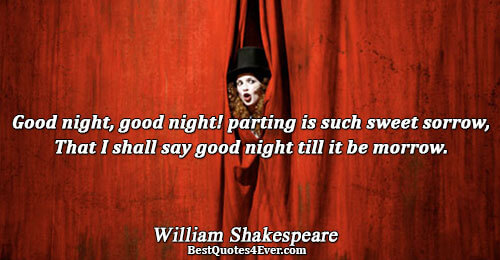 Good night, good night! parting is such sweet sorrow,
That I shall say good night till it be morrow.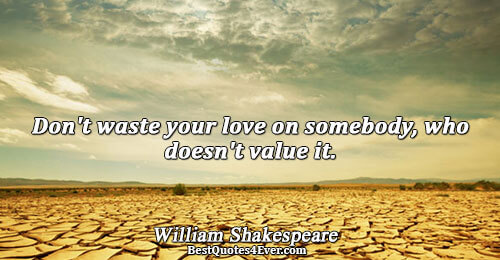 Don't waste your love on somebody, who doesn't value it.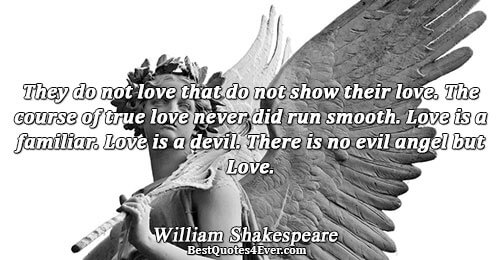 They do not love that do not show their love. The course of true love never did run smooth. Love is a familiar. Love is a devil. There is no evil angel but Love.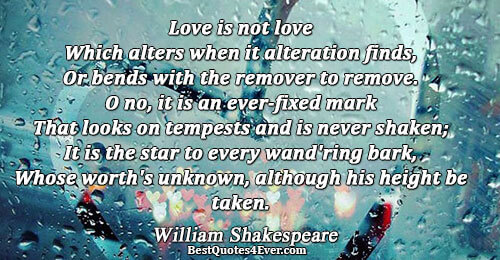 Love is not love
Which alters when it alteration finds,
Or bends with the remover to remove.
O no, it is an ever-fixed mark
That looks on tempests and is never shaken;
It is the star to every wand'ring bark,
Whose worth's unknown, although his height be taken."

(Sonnet 116)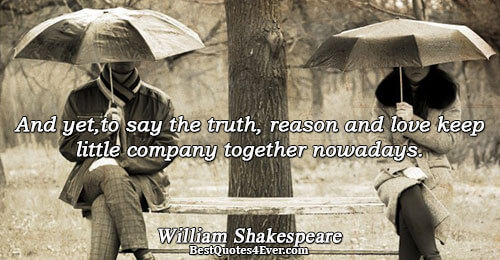 And yet,to say the truth, reason and love keep little company together nowadays.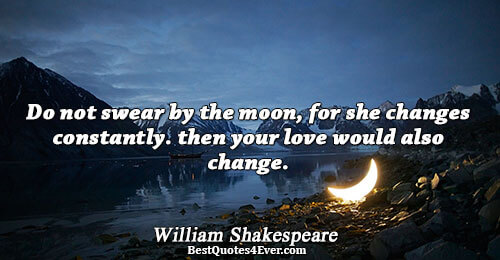 Do not swear by the moon, for she changes constantly. then your love would also change.
I had rather hear my dog bark at a crow, than a man swear he loves me.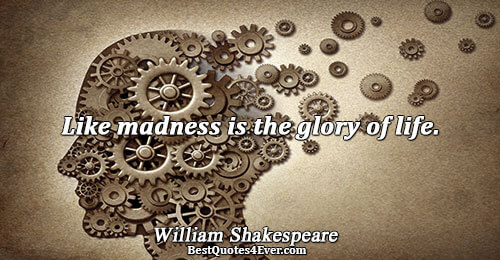 Like madness is the glory of life.
All the world's a stage.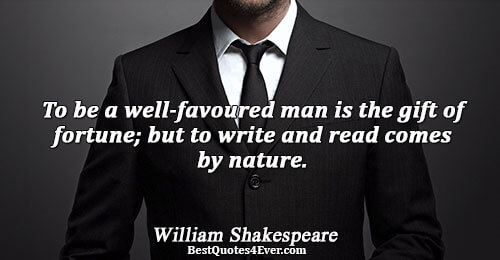 To be a well-favoured man is the gift of fortune; but to write and read comes by nature.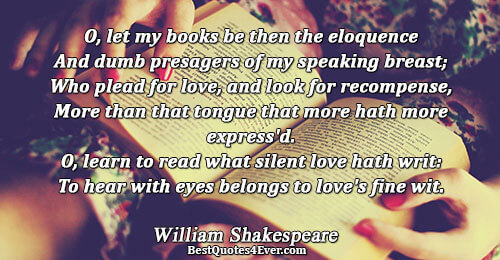 O, let my books be then the eloquence
And dumb presagers of my speaking breast;
Who plead for love, and look for recompense,
More than that tongue that more hath more express'd.
O, learn to read what silent love hath writ:
To hear with eyes belongs to love's fine wit.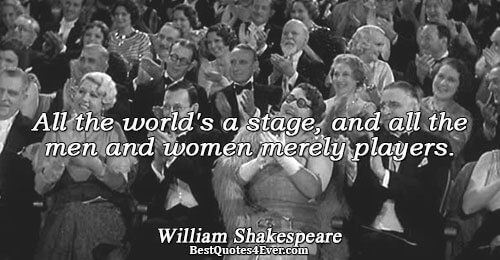 All the world's a stage, and all the men and women merely players.
Give sorrow words; the grief that does not speak knits up the o-er wrought heart and bids it break.
They have been at a great feast of languages, and stolen the scraps.
...speak to me as to thy thinking
As thou dost ruminate, and give thy worst of thoughts
The worst of words...
The sweat of industry would dry and die, But for the end it works to.
O serpent heart hid with a flowering face!
Did ever a dragon keep so fair a cave?
Beautiful tyrant, feind angelical, dove feather raven, wolvish-ravening lamb! Despised substance of devinest show, just opposite to what thou justly seemest - A dammed saint, an honourable villain!
...Who could refrain,
That had a heart to love, and in that heart
Courage to make love known?
See how she leans her cheek upon her hand.
O, that I were a glove upon that hand
That I might touch that cheek!
I do love nothing in the world so well as you- is not that strange?
Love comforteth like sunshine after rain.
O, here
Will I set up my everlasting rest,
And shake the yoke of inauspicious stars
From this world-wearied flesh. Eyes, look your last!
Arms, take your last embrace! and, lips, O you
The doors of breath, seal with a righteous kiss
A dateless bargain to engrossing death!
For which of my bad parts didst thou first fall in love with me?
If music be the food of love, play on.
If love be rough with you, be rough with love. Prick love for pricking and you beat love down.
I'll follow thee and make a heaven of hell,
To die upon the hand I love so well.
Nothing is so common as the desire to be remarkable.
Tis an ill cook that cannot lick his own fingers.
Life ... is a tale
Told by an idiot, full of sound and fury,
Signifying nothing.
Out, out brief candle, life is but a walking shadow...a tale told by an idiot, full of sound and fury, signifying nothing.
Out, out, brief candle! Life's but a walking shadow, a poor player that struts and frets his hour upon the stage and is heard no more. It is a tale told by an idiot, full of sound and fury, signifying nothing.
Hell is empty and all the devils are here.
Honesty is the best policy.
Of all the wonders that I have heard,
It seems to me most strange that men should fear;
Seeing death, a necessary end,
Will come when it will come.
(Act II, Scene 2)
There are three people in yourself:Who people think you are, Who you think you are, and who you really are.
Methought I heard a voice cry, Sleep no more!
Macbeth does murder sleep, - the innocent sleep;
Sleep that knits up the ravell'd sleave of care,
The death of each day's life, sore labour's bath,
Balm of hurt minds, great nature's second course,
Chief nourisher in life's feast.
Bid me run, and I will strive with things impossible.
That truth should be silent I had almost forgot. (Enobarbus)
Out of this nettle - danger - we pluck this flower - safety.
Against an oath; the truth thou art unsure.
There is nothing either good or bad, but thinking makes it so.
Life... is a paradise to what we know of death.
Of all knowledge, the wise and good seek mostly to know themselves.
The summer's flower is to the summer sweet
Though to itself it only live and die
The fool doth think he is wise, but the wise man knows himself to be a fool.
Wisely and slow; they stumble that run fast.
So wise so young, they say, do never live long.
These violent delights have violent ends.
There's a divinity that shapes our ends,
Rough-hew them how we will.
Men must endure
Their going hence, even as their coming hither.
Ripeness is all.
Journeys end in lovers meeting,
Every wise man's son doth know.
A knavish speech sleeps in a fool's ear.
There are occasions and causes, why and wherefore in all things.
With mirth and laughter let old wrinkles come.
I drink to the general joy o' the whole table." Macbeth
Yes, faith; it is my cousin's duty to make curtsy and say 'Father, as it please you.' But yet for all that, cousin, let him be a handsome fellow, or else make another curtsy and say 'Father, as it please me.
If [God] send me no husband, for the which blessing I am at him upon my knees every morning and evening ...
My only love sprung from my only hate!
Too early seen unknown, and known too late!
Prodigious birth of love it is to me,
That I must love a loathed enemy.
For never was a story of more woe than this of Juliet and her Romeo.
Love is a smoke made with the fume of sighs.
Eyes, look your last!
Arms, take your last embrace!
And, lips, oh you the doors of breath, seal with a righteous kiss a dateless bargain to engrossing death!
Men's eyes were made to look, let them gaze, I will budge for no man's pleasure.
These times of woe afford no time to woo.
Where love is great, the littlest doubts are fear; Where little fears grow great, great love grows there.
Love is a smoke rais'd with the fume of sighs; being purg'd, a fire sparkling in lovers' eyes; being vex'd, a sea nourish'd with lovers' tears; what is it else? A madness most discreet, a choking gall, and a preserving sweet.
Why should you think that I should woo in scorn?
Scorn and derision never come in tears:
Look, when I vow, I weep; and vows so born,
In their nativity all truth appears.
How can these things in me seem scorn to you,
Bearing the badge of faith, to prove them true?
For thy sweet love remembr'd such wealth brings
That then, I scorn to change my state with kings.
Viola to Duke Orsino: 'I'll do my best
To woo your lady.'
[Aside.] 'Yet, a barful strife! Whoe'er I woo, myself would be his wife.
Art thou gone so, love, lord, ay husband, friend?
I must hear from thee every day in the hour,
For in a minute there are many days.
O, by this count I shall be much in years
Ere I again behold my Romeo!
When he shall die,
Take him and cut him out in little stars,
And he will make the face of heaven so fine
That all the world will be in love with night
And pay no worship to the garish sun.
Full fathom five thy father lies;
Of his bones are coral made;
Those are pearls that were his eyes:
Nothing of him that doth fade,
But doth suffer a sea-change
Into something rich and strange.
Sea-nymphs hourly ring his knell: Ding-dong
Hark! now I hear them, - Ding-dong, bell.
Death, a necessary end, will come when it will come
The evil that men do lives after them;
The good is oft interred with their bones.
Where is Polonius?
HAMLET
In heaven. Send hither to see. If your messenger find him not there, seek him i' th' other place yourself. But if indeed you find him not within this month, you shall nose him as you go up the stairs into the lobby.
true apothecary thy drugs art quick
whats here a cup closed in my true loves hand poisin i see hath been his timeless end. oh churl drunk all and left no friendly drop to help me after. i will kiss thy lips some poisin doth hang on them, to help me die with a restorative. thy lips are warm.
yea noise then ill be brief oh happy dagger this is thy sheath. there rust and let me die.
Sin, death, and hell have set their marks on him,
And all their ministers attend on him.
Like as the waves make towards the pebbled shore,
So do our minutes hasten to their end;
Each changing place with that which goes before,
In sequent toil all forwards do contend.
This feather stirs; she lives! if it be so, it is a chance which does redeem all sorrows that ever I have felt.
Her blood is settled, and her joints are stiff;
Life and these lips have long been separated:
Death lies on her like an untimely frost
Upon the sweetest flower of all the field.
Cordelia! stay a little. Ha! What is't thou say'st? Her voice was ever soft.
But thoughts the slave of life, and life, Time's fool,
And Time, that takes survey of all the world,
Must have a stop.
O, pardon me, thou bleeding piece of earth, / That I am meek and gentle with these butchers!
one pain is cured by another. catch some new infection in your eye and the poison of the old one would die.
O my love, my wife!
Death, that hath suck'd the honey of thy breath
Hath had no power yet upon thy beauty.
Romeo: Courage, man; the hurt cannot be much.
Mercutio: No, 'tis not so deep as a well, nor so wide as a church-door; but 'tis enough, 'twill serve. Ask for me tomorrow, and you shall find me a grave man.
ROSENCRANTZ My lord, you must tell us where the body is, and go with us to the king.
HAMLET The body is with the king, but the king is not with the body. The king is a thing -
GUILDENSTERN A thing my lord?
HAMLET Of nothing. Bring me to him. Hide fox, and all after!
La vida es mi tortura y la muerte será mi descanso.
Let's talk of graves, of worms, and epitaphs;
Make dust our paper and with rainy eyes
Write sorrow on the bosom of the earth,
Let's choose executors and talk of wills
For Brutus, as you know, was Caesar's angel:
Judge, O you gods, how dearly Caesar loved him!
This was the most unkindest cut of all
Too much of water hast thou, poor Ophelia,
And therefore I forbid my tears.
And will 'a not come again?
And will 'a not come again?
No, no, he is dead,
Go to thy death bed:
He will never come again.
This world's a city full of straying streets, and death's the market-place where each one meets.
All things that we ordained festival,
Turn from their office to black funeral;
Our instruments to melancholy bells,
Our wedding cheer to a sad burial feast,
Our solemn hymns to sullen dirges change,
Our bridal flowers serve for a buried corse,
And all things change them to the contrary.
Woe, destruction, ruin, and decay; the worst is death and death will have his day.
Remember thee? Ay, thou poor ghost, while memory holds a seat
in this distracted globe. Remember thee?
He that hath the steerage of my course,
Direct my sail.
O, wonder!
How many goodly creatures are there here!
How beauteous mankind is! O brave new world,
That has such people in't!
True hope is swift, and flies with swallow's wings.
And worse I may be yet: the worst is not
So long as we can say 'This is the worst.
[Thou] mad mustachio purple-hued maltworms!
[Thine] face is not worth sunburning.
Thou art a very ragged Wart.
The small amount of foolery wise men have makes a great show.
How art thou out of breath when thou hast breath
To say to me that thou art out of breath?
I will make thee think thy swan a crow.
I'll be supposed upon a book, his face is the worst thing about him.
What early tongue so sweet saluteth me?
Mother, you have my father much offended.
I like this place and could willingly waste my time in it.
Why, man, he doth bestride the narrow world
Like a Colossus; and we petty men
Walk under his huge legs, and peep about
To find ourselves dishonourable graves.
There's an old saying that applies to me: you can't lose a game if you don't play the game. (Act 1, scene 4)
Go wisely and slowly. Those who rush stumble and fall.
He that is thy friend indeed,
He will help thee in thy need:
If thou sorrow, he will weep;
If thou wake, he cannot sleep:
Thus of every grief in heart
He with thee doth bear a part.
These are certain signs to know
Faithful friend from flattering foe.
A lover goes toward his beloved as enthusiastically as a schoolboy leaving his books, but when he leaves his girlfriend, he feels as miserable as the schoolboy on his way to school. (Act 2, scene 2)
All days are nights to see till I see thee,
And nights bright days when dreams do show thee me.
To me, fair friend, you never can be old,
For as you were when first your eye I ey'd,
Such seems your beauty still.
Fondling,' she saith, 'since I have hemm'd thee here
Within the circuit of this ivory pale,
I'll be a park, and thou shalt be my deer;
Feed where thou wilt, on mountain or in dale:
Graze on my lips, and if those hills be dry,
Stray lower, where the pleasant fountains lie.
Thus weary of the world, away she hies,
And yokes her silver doves; by whose swift aid
Their mistress mounted through the empty skies
In her light chariot quickly is convey'd;
Holding their course to Paphos, where their queen
Means to immure herself and not be seen.
Under the greenwood tree,
Who loves to lie with me
And tune his merry note,
Unto the sweet bird's throat;
Come hither, come hither, come hither.
Here shall he see
No enemy
But winter and rough weather.
Then others for breath of words respect,
Me for my dumb thoughts, speaking in effect.
I take thee at thy word:
Call me but love, and I'll be new baptized;
Henceforth I never will be Romeo.
Modest doubt is call'd the beacon of the wise.
O teach me how I should forget to think (1.1.224)
Educated men are so impressive!
The tempter or the tempted, who sins most?
We, ignorant of ourselves,
Beg often our own harms, which the wise powers
Deny us for our good; so find we profit
By losing of our prayers.
His life was gentle; and the elements
So mixed in him, that Nature might stand up
And say to all the world, THIS WAS A MAN!
Tongues in trees, books in running brooks, sermons in stones, and good in everything.
Friends, Romans, countrymen, lend me your ears;
I come to bury Caesar, not to praise him;
The evil that men do lives after them,
The good is oft interred with their bones
We know what we are, but know not what we may be.
There's a tide in the affairs of men, which taken at the flood, leads onto fortune, omitted, all their voyages end in shallows and miseries. Upon such tide are we now...
O for a Muse of fire, that would ascend
The brightest heaven of invention!
Give thanks for what you are today and go on fighting for what you gone be tomorrow
If thou dost seek to have what thou dost hide,
By self-example mayst thou be denied.
Most friendship is feigning, most loving mere folly.
Mend your speech a little, Lest you may mar your fortunes.
Heigh-ho! sing, heigh-ho! unto the green holly:
Most friendship is feigning, most loving mere folly:
Then, heigh-ho, the holly!
This life is most jolly.
Glendower: I can call the spirits from the vasty deep.
Hotspur: Why, so can I, or so can any man;
But will they come, when you do call for them?
And this our life, exempt from public haunt, finds tongues in trees, books in the running brooks, sermons in stones, and good in everything. I would not change it.
Knowing I lov'd my books, he furnish'd me From mine own library with volumes that I prize above my dukedom.
As I am an honest man, I thought you had received some bodily wound. There is more sense in that than in reputation. Reputation is an idle and most false imposition, oft got without merit and lost without deserving.
Make the doors upon a woman's wit,
and it will out at the casement;
shut that, and 'twill out at the key-hole;
stop that, 'twill fly with the smoke out at the chimney.
More of your conversation would infect my brain.
- Where is Polonius?
- In heaven; send hither to see: if your messenger find him not there, seek him i' the other place yourself.
What, you egg? [He stabs him.]
Men from children nothing differ.
I wasted time, and now doth time waste me.

Act V, Scene V
Better three hours too soon than a minute too late.
Time does not have the same appeal for every one
agar vaght ra talaf konid zamani fara miresad ke vaght shoma ra talaf mikonad.
Time goes on crutches till love have all his rites.
Four days will quickly steep themselves in nights;
Four nights will quickly dream away the time.
Tomorrow, and tomorrow, and tomorrow,
Creeps in this petty face from day to day.
Time travels in divers paces with divers persons.
O that a man might know
The end of this day's business ere it come!
But it sufficeth that the day will end
And then the end is known.
Time shall unfold what pleated cunning hides: Who cover faults, at last shame them derides.
There's little of the melancholy element in her, my lord: she is never sad but when she sleeps; and not ever sad then; for I have heard my daughter say, she hath often dreamt of unhappiness, and waked herself with laughing.
In time we hate that which we often fear.
Screw your courage to the sticking-place
O all you host of heaven! O earth! What else?
And shall I couple Hell?
Best safety lies in fear.
Our doubts are traitors, and make us loose the good that we oft might win, by fearing to attempt.
Of all base passions fear is most accurs'd.
So our virtues
Lie in the interpretation of the time:
And power, unto itself most commendable,
Hath not a tomb so evident as a chair
To extol what it hath done.
One fire drives out one fire; one nail, one nail;
Rights by rights falter, strengths by strengths do fail.
For I have sworn thee fair, and thought thee bright,
Who art as black as hell, as dark as night.
For she had eyes and chose me.
The Devil hath power
To assume a pleasing shape.
O! she doth teach the torches to burn bright
It seems she hangs upon the cheek of night
Like a rich jewel in an Ethiop's ear;
Beauty too rich for use, for earth too dear.

- Romeo -
From women's eyes this doctrine I derive:
They sparkle still the right Promethean fire;
They are the books, the arts, the academes,
That show, contain and nourish all the world.
...and then, in dreaming, / The clouds methought would open and show riches / Ready to drop upon me, that when I waked / I cried to dream again.
O, then I see Queen Mab hath been with you. . . .
She is the fairies' midwife, and she comes
In shape no bigger than an agate stone
On the forefinger of an alderman,
Drawn with a team of little atomi
Athwart men's noses as they lie asleep.
The Brightness of her cheek would shame those stars as daylight doth a lamp; her eyes in heaven would through the airy region stream so bright that birds would sing, and think it were not night.
Could beauty, my lord, have better commerce than with honesty?
Beauty itself doth of itself persuade
The eyes of men without orator.
Golden lads and girls all must, like chimmney-sweepers, come to dust.
When the devout religion of mine eye
Maintains such falsehood, then turn tears to fires,
And these, who, often drowned, could never die,
Transparent heretics, be burnt for liars!
One fairer than my love? The all-seeing sun
Ne'er saw her match since first the world begun.
She will outstrip all praise and make it halt behind her.
A blind man can't forget the eyesight he lost, show me any beautiful girl. How can her beauty not remind me of the one whose beauty surpasses hers?
What is thy body but a swallowing grave,
Seeming to bury that posterity
Which, by the rights of time, thou needs must have
If thou destroy them not in dark obscurity?
If so, the world will hold thee in disdain,
Sith in thy pride so fair a hope is slain.
Be not self-willed, for thou art much too fair
To be death's conquest and make worms thine heir.
He eats nothing but doves, love, and that breeds hot blood, and hot blood beget hot thoughts, and hot thoughts beget hot deeds, and hot deeds is love.
I know a bank where the wild thyme blows,
Where oxlips and the nodding violet grows,
Quite over-canopied with luscious woodbine,
With sweet musk-roses and with eglantine.
Lovers and madmen have such seething brains
Such shaping fantasies, that apprehend
More than cool reason ever comprehends.

Where shall we three meet again in thunder, lightning, or in rain? When the hurlyburly 's done, when the battle 's lost and won
Lucentio: I read that I profess, the Art of Love.
Bianca: And may you prove, sir, master of your art!
Lucentio: While you, sweet dear, prove mistress of my heart!
Cucullus non facit monachum; that's as much to say, as I wear not motley in my brain.
Cry havoc and let slip the dogs of war!
Once more unto the breach, dear friends, once more;
Or close the wall up with our English dead!
In peace there's nothing so becomes a man
As modest stillness and humility:
But when the blast of war blows in our ears,
Then imitate the action of the tiger.
I am afeard there are few die well that die in battle, for how can they charitably dispose of anything when blood is their argument?
In peace there's nothing so becomes a man as modest stillness and humility; but when the blast of war blows in our ears, then imitate the action of the tiger; stiffen the sinews, summon up the blood, disguise fair nature with hard-favor'd rage.
Now put your shields before your hearts and fight / With hearts more proof than shields. Advance, my fellows!
This tune goes manly.
Come, go we to the King. Our power is ready;
Our lack is nothing but our leave. Macbeth
Is ripe for shaking, and the powers above
Put on their instruments. Receive what cheer you may.
The night is long that never finds the day.
They exit.
The time approaches
That will with due decision make us know
What we shall say we have and what we owe.
Thoughts speculative their unsure hopes relate,
But certain issue strokes must arbitrate;
Towards which, advance the war.
They exit marching.
Let me have war, say I: it exceeds peace as far as day does night; it's spritely, waking, audible, and full of vent. Peace is a very apoplexy, lethargy; mulled, deaf, sleepy, insensible; a getter of more bastard children than war's a destroyer of men.
Sometime [Queen Mab] driveth o'er a soldier's neck,
And then dreams he of cutting foreign throats,
Of breaches, ambuscadoes, Spanish blades,
Of healths five fathom deep; and then anon
Drums in his ear, at which he starts and wakes,
And being thus frighted, swears a prayer or two
And sleeps again
But man, proud man,
Dress'd in a little brief authority,
Most ignorant of what he's most assur'd -
His glassy essence - like an angry ape
Plays such fantastic tricks before high heaven
As makes the angels weep; who, with our spleens,
Would all themselves laugh mortal.
My liege, and madam, to expostulate
What majesty should be, what duty is, Why day is day, night night, and time is time,
Were nothing but to waste night, day and time.
Therefore, since brevity is the soul of wit,
And tediousness the limbs and outward flourishes,
I will be brief.
Sound drums and trumpets! Farewell sour annoy! For here, I hope, begins our lasting joy.
Ay me! For aught that I could every read,
Could ever hear by tale or history,
The course of true love never did run smooth,
But either it was different in blood-
When I said I would die a bachelor, I did not think I should live till I were married.
No sooner met but they looked; no sooner looked but they loved; no sooner loved but they sighed; no sooner sighed but they asked one another the reason; no sooner knew the reason but they sought the remedy; and in these degrees have they made a pair of stairs to marriage...
And too soon Marred are those so early Made.
I'll have no husband, if you be not he.
A young man married is a man that's marred.
Were kisses all the joys in bed,/One woman would another wed.
Many a good hanging prevents a bad marriage.
One fire burns out another's burning,
One pain is lessen'd by another's anguish.
Tis torture, and not mercy. Heaven is here Where Juliet lives, and every cat and dog And little mouse, every unworthy thing, Live here in heaven and may look on her, But Romeo may not.
I will go tell him of Hermia's flight:
Then to the wood will he to-morrow night
Pursue her; and for this intelligence
If I have thanks, it is a dear expense:
But herein mean I to enrich my pain,
To have his sight thither and back again.
A peace is of the nature of a conquest; for then both parties nobly are subdued, and neither party loser.
They do not love, that do not show their love.
In Antiochus and his daughter you have heard of monstrous lust the due and just reward; In Pericles, his queen, and daughter, seen, Although assailed with fortune fierce and keen, Virtue preserved from fell destruction's blast, Led on by heaven, and crowned with joy at last.
We all are men, in our own natures frail, and capable of our flesh; few are angels.
Their manners are more gentle, kind, than of our generation you shall find.
Then the liars and swearers are fools, for there are liars and swearers enough to beat the honest men and hang up them.
There are more things in Heaven and Earth, Horatio, than are dreamt of in your philosophy.
We are such stuff as dreams are made on, and our little life is rounded with a sleep.
True, I talk of dreams,
Which are the children of an idle brain,
Begot of nothing but vain fantasy,
Which is as thin of substance as the air,
And more inconstant than the wind, who woos
Even now the frozen bosom of the north,
And, being anger'd, puffs away from thence,
Turning his side to the dew-dropping south.
For some must watch, while some must sleep
So runs the world away
Romeo: I dreamt a dream tonight.

Mercutio: And so did I.

Romeo: Well, what was yours?

Mercutio: That dreamers often lie.
All things that are, are with more spirit chased than enjoy'd.
Master, go on, and I will follow thee
To the last gasp with truth and loyalty.
O hell! to choose love by another's eye.
Then to the elements be free...
Then to the elements be free
From too much liberty, my Lucio, liberty
As surfeit is the father of much fast,
So every scope of the immoderate use
Turns to restraint. Our natures do pursue, -
Like rats that ravin down their proper bane, -
A thirsty evil; and when we drink we die.
The man that hath no music in himself, Nor is not moved with concord of sweet sounds, Is fit for treasons, stratagems, and spoils; The motions of his spirit are dull as night, And his affections dark as Erebus. Let no such man be trusted. Mark the music.
Tax not so bad a voice to slander music any more than once.
Music oft hath such a charm
To make bad good, and good provoke to harm.
Preposterous ass, that never read so far
To know the cause why music was ordain'd!
Was it not to refresh the mind of man
After his studies or his usual pain?
(The Taming of the Shrew, 3.1.10-13), Lucentio
Keep time! How sour sweet music is when time is broke and no proportion kept! So is it in the music of men's lives. I wasted time and now doth time waste me.
Tis in ourselves that we are thus or thus. Our bodies are our gardens to the which our wills are gardeners.
Words are easy, like the wind; Faithful friends are hard to find.
So we grew together like to a double cherry, seeming parted, but yet an union in partition, two lovely berries molded on one stem.
Give me that man that is not passion's slave, and I will wear him in my heart's core, in my heart of heart, as I do thee.
I have unclasp'd to thee the book even of my secret soul.
But if the while I think on thee, dear friend,
All losses are restored and sorrows end.
Those friends thou hast, and their adoption tried,
Grapple them to thy soul with hoops of steel;
But do not dull thy palm with entertainment
Of each new-hatch'd, unfledg'd comrade.
Farewell, sweet playfellow.
A friend is someone that knows you as you are, understands where you have been, accepts what you have become, and still, gently, allows you to grow.
Children wish fathers looked but with their eyes; fathers that children with their judgment looked; and either may be wrong
It is excellent / To have a giant's strenght / But it is tyrannous / To use it like a giant

(Isabella)
The pow'r I have on you is to spare you / The malice towards you, to forgive you.
Posthumus
For to be wise and love exceeds man's might.
It is an heretic that makes the fire,
Not she which burns in't.
Verily, I swear, 'tis better to be lowly born, and range with humble livers in content, than to be perk'd up in a glistering grief, and wear a golden sorrow.
This look of thine will hurl my soul from heaven.
There is thy gold, worse poison to men's souls,
Doing more murder in this loathsome world,
Than these poor compounds that thou mayst not sell.
Fortune, that arrant whore,
Ne'er turns the key to th'poor.
Macbeth:
If we should fail?

Lady Macbeth:
We fail?
But screw your courage to the sticking place,
And we'll not fail.
Lord Polonius: What do you read, my lord?
Hamlet: Words, words, words.
Lord Polonius: What is the matter, my lord?
Hamlet: Between who?
Lord Polonius: I mean, the matter that you read, my lord.
O villain, villain, smiling, damned villain!
-Hamlet (I, v, 106)
I wish you all the joy that you can wish.
Good name in man and woman, dear my lord,
Is the immediate jewel of their souls:
Who steals my purse steals trash; 'tis something, nothing;
'twas mine, 'tis his, and has been slave to thousands;
But he that filches from me my good name
Robs me of that which not enriches him,
And makes me poor indeed.
The commonwealth is sick of their own choice;
Their over-greedy love has surfeited.
An habitation giddy and unsure
Hath he that buildeth on the vulgar heart.
Men should be what they seem.
Men are April when they woo, December when they wed. Maids are May when they are maids, but the sky changes when they are wives.
What we are is not all that we may become.
Call it not patience, Gaunt; it is despair:
Sigh no more, ladies, sigh no more,
Men were deceivers ever,-
One foot in sea and one on shore,
To one thing constant never.