Alfred Tennyson Quotes
Alfred Tennyson Quotes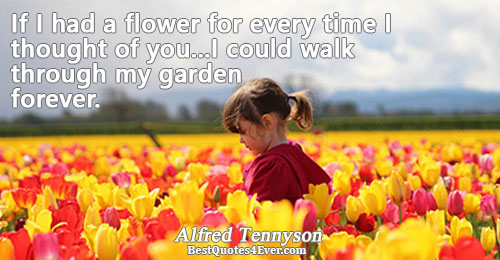 If I had a flower for every time I thought of you...I could walk through my garden forever.
Half the night I waste in sighs,
Half in dreams I sorrow after
The delight of early skies;
In a wakeful dose I sorrow
For the hand, the lips, the eyes,
For the meeting of the morrow,
The delight of happy laughter,
The delight of low replies.
Tears, idle tears, I know not what they mean,
Tears from the depths of some devine despair
Rise in the heart, and gather to the eyes,
In looking on the happy autumn fields,
And thinking of the days that are no more.
Hope
Smiles from the threshold of the year to come,
Whispering 'it will be happier'...
I am a part of all that I have met.
Come friends, it's not too late to seek a newer world.
the shell must break before the bird can fly.
Knowledge comes, but wisdom lingers.
But thy strong Hours indignant work'd their wills,
And beat me down and marr'd and wasted me,
And tho' they could not end me, left me maim'd
To dwell in presence of immortal youth,
Immortal age beside immortal youth,
And all I was, in ashes.
- Tithonus
I came in haste with cursing breath,
And heart of hardest steel;
But when I saw thee cold in death,
I felt as man should feel.

For when I look upon that face,
That cold, unheeding, frigid brown,
Where neither rage nor fear has place,
By Heaven! I cannot hate thee now!
Dear as remembered kisses after death,
And sweet as those by hopeless fancy feign'd
On lips that are for others; deep as love,
Deep as first love, and wild with all regret;
O Death in Life, the days that are no more!