Alysha Speer Quotes
Alysha Speer Quotes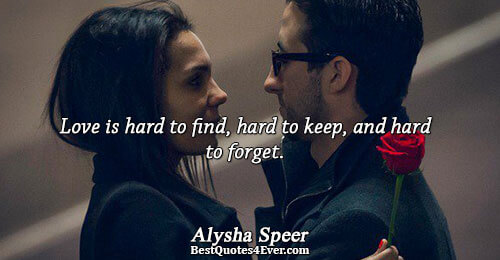 Love is hard to find, hard to keep, and hard to forget.
Only write a story that only you can write.
So many thoughts ran through my head. Most of them contained the same, simply three words so often strung together that it was too much a classic cheese or cliche to say it, but they still had meaning, no matter how many times they had been repeated.
Life is hell, at some point we all just have to get used to it.
You never really know what's coming. A small wave, or maybe a big one. All you can really do is hope that when it comes, you can surf over it, instead of drown in its monstrosity.
The truth doesn't mind being told every once in a while.
And though I was currently living a fairy tale, some part of my soul knew that happiness couldn't last forever. I didn't deserve a happily ever after, and there weren't many other cards to play when that was the truth.
When a poet settled down to write a poem, could he foresee the lines he would write? Did his head constantly spin with riddles and rhymes and was his only job to put them down? What if he couldn't get them to make sense, and no one, not even the person he cared for most, could have pleasure in reading it? What would he do?
Never be afraid to be sexy!
I was not weak; I did not cry. But it hurt me, more in a kind of refreshing, thrilling way, than a kind of pain that would cripple me and send me away crying. My fingernails dug into the palms of my hands, and my teeth bit into my lips, my knees were locked, but I could not faint.
I felt like some part of my soul was ripped out and put under a microscope for criticizing.