Bill Willingham Quotes
Bill Willingham Quotes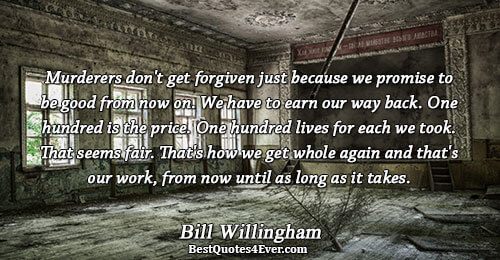 Murderers don't get forgiven just because we promise to be good from now on. We have to earn our way back. One hundred is the price. One hundred lives for each we took. That seems fair. That's how we get whole again and that's our work, from now until as long as it takes.
Baba Yaga: "... What are his powers"
Mirror on the wall: "He reads
Freedom is sloppy. But since tyranny's the only guaranteed byproduct of those who insist on a perfect world, freedom will have to do.
We live through the belief of children...Regicide is suicide, citizens. Inscribe that in your hearts. The Great Pretend is a fragile construct.