Che Guevara Quotes
Che Guevara Quotes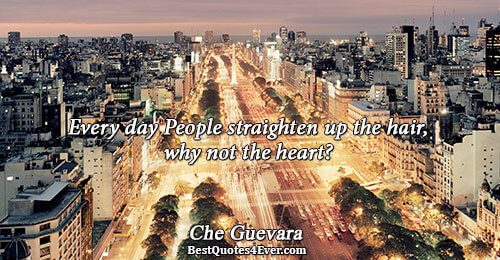 Every day People straighten up the hair, why not the heart?
Silence is argument carried out by other means.
We cannot be sure of having something to live for unless we are willing to die for it.
HASTA LA VICTORIA SIEMPRE
The revolution is not an apple that falls when ripe. You have to make it fall.
Hay que ser duro pero jamas perder la ternura.

[It is necessary to be hard but never to lose the tenderness]
We must come to the inevitable conclusion that the guerrilla is a social reformer, who takes up arms responding to the angry protests of the people against their oppressors, and who fights to change the social system that keeps all his unarmed brothers in ignominy and poverty.
His wife spotted the danger in our resolutely bohemian ways.

"You have only one year left before you qualify as a doctor and yet you're going away? You have no idea when you'll be back? But why?"

We couldn't give precise answers to her desperate questions and this horrified her...