Demi Lovato Quotes
Demi Lovato Quotes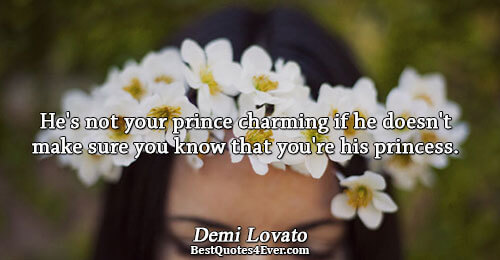 He's not your prince charming if he doesn't make sure you know that you're his princess.
Who said
I can't wear my Converse
With my dress, well baby
That's just me!
The sky is the limit... for some people aim higher nothing is impossible.
And if you think you're alone. Put on my music. Because I'm going to be there for you.
Do you have to make me feel like there's nothing left of me? You can take everything I have, you can break everything I am, like I am made of glass, like I am made of paper.Go on and try to tear me down I will be rising from the ground like a Skyscraper...
As the smoke clears,
I awaken,
And untangle you from me.
Would it make you feel better
To watch me, while I bleed?
All my windows still are broken,
But I'm standing on my feet.
Skies are crying,
I am watching,
Catching teardrops in my hands.
Only silence, as it's ending,
Like we never had a chance.
Do you have to make me feel
Like there's nothing left of me?
The Fact That You Have The Ability To Stand On Stage And Sing While You're Crying Is So Brave.
One of the most scariest thing in life is when you come to the realization that the only thing that can save you is...yourself
Make a wish with all your heart and chase every dream you have. Only you can reach your goals. No one else can achieve them for you
The sun shine comes, you see the shine you see the color, when night comes you the stars you see the dark the blooming moon you choose a star you follow the star it comes in your dreams you follow stars once a light bug dies you see a new star you follow the star your dreams come true.
Share your story with someone. You never know how one sentence of your life story could inspire someone to rewrite their own.
Change is never painful, only the resistance to change is painful.
I can't set my hopes too high,
'Cause every hello ends with a goodbye.