Effy Stonem Quotes
Effy Stonem Quotes
Love, love, love... what is it good for? Absolutely nothing
You don't understand, do you, Ton? As long as the phone keeps ringing, she's still there.
She means the truth hurts, Dad. it's for her own good.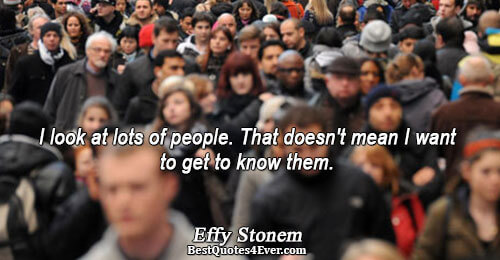 I look at lots of people. That doesn't mean I want to get to know them.
Sometimes I think I was born backwards. You know, come out my mum the wrong way. I hear words go past me backwards. The people I should love, I hate. And the people I hate...
You look really good Tony, like your are ready for anything.
Hit me, Just once, i want to feel something.. HIT ME, I dare you.
If you close your eyes you see darkness. But if you keep them closed for long enough.. you'll see light.
I'm officially off the rails.
Everybody dances to their own boom boom.
"Loser" isn't an emotion.
A tab with your face on it. Here. A hole that fits mine. The moment I saw you, I knew it'd be the closest I'd get to being... close. I didn't know what to do with that feeling... happiness.
You can take anything if you want it enough.