George Strait Quotes
George Strait Quotes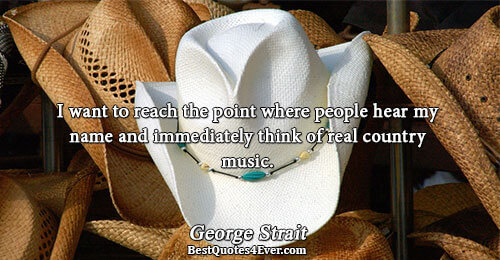 I want to reach the point where people hear my name and immediately think of real country music.
I'm always looking for great songs, and not being much of a songwriter, I depend on great songwriters to send them to me. I go through tons of stuff, and sometimes you just find material that kind of fits and becomes something special.
Bob Wills and the Texas Playboys are simply the best band that ever was.
I like people who are loyal to me, and I like to be loyal, too.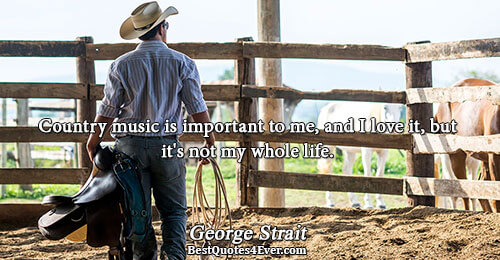 Country music is important to me, and I love it, but it's not my whole life.
I love to fish offshore for billfish, and have fished all over for them from the Bahamas, St. Thomas, Venezuela, Panama, Costa Rica, Mexico to the Texas gulf. I haven't made it to Australia yet, but someday I'm going.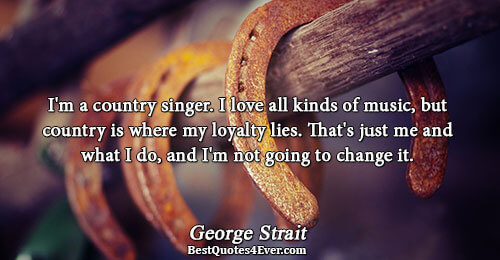 I'm a country singer. I love all kinds of music, but country is where my loyalty lies. That's just me and what I do, and I'm not going to change it.
I loved making Pure Country. It was a great learning experience for me, seeing another part of the entertainment industry.
I've been blessed with the ability to sing, and that has taken me so many places I never would have gone otherwise.
I've had great fans, and they've been so loyal over the years.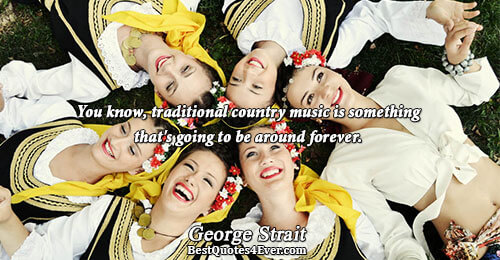 You know, traditional country music is something that's going to be around forever.
We work hard when we're in the studio, but then when we take our breaks, we walk outside and look around.
I don't mind traveling that much when I can go somewhere and stay there for a while, but touring is different. You rarely see anything. You get there early in the morning and you're resting all day, and you go in and do a sound check, and you do the show, and then bam you're gone.
I've just tried for all of these years to find the best records, the best songs that I could find that fit me, and I've had great people to work with all these years.
I get asked sometimes 'What's the highlight of my career?' because I've been doing it for so long, and I always have a hard time coming up with something, because so many good things have happened.
I just continue to look for different material, great material, as good as I can find, and try to go in there and do as good a job as I can do in making it a record. That's all you can expect. That's all that you can do.
I used to do a lot of interviews in the early '80s, when my career started, but it came to a point when I decided I didn't want to talk anymore, and people kind of understood that and left me alone.
Life's not the breaths you take, but the moments that take your breath away.