Gopichand Lagadapati Quotes
Gopichand Lagadapati Quotes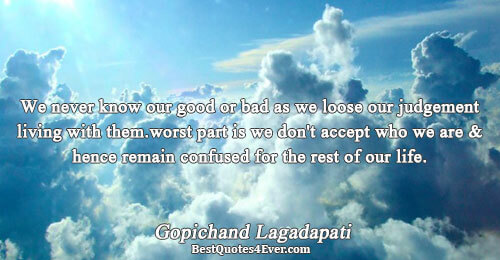 We never know our good or bad as we loose our judgement living with them.worst part is we don't accept who we are & hence remain confused for the rest of our life.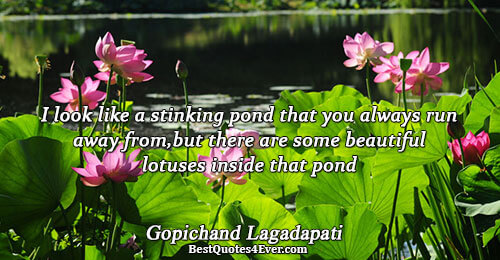 I look like a stinking pond that you always run away from,but there are some beautiful lotuses inside that pond
I found a beautiful lane called " I know nothing" . it leads it way ; all you got to do is walk in it.
You look the conflict with your ego & i look the same conflict with thought.Your ego never gives me a second chance..we are left to suffer!
You chose me as your partner because i am the virtual image created in your brain!In reality my voice doesn't suit your image & hence we split.
Our successful stories die with us. If you are lucky enough, you go into the pages of history books where only few are interested to dig about you.
Otherwise,is the only reason why one is unhappy and unsuccessful
If you think , life is all about soul searching you are wasting your time with out realizing that you are living with it.
Super hero's are also socially abandoned when with out their masks .One need to be supremely fantastic to find the supreme quality of these super hero's.If one know what I mean each of you are awesome; Its just with time.
I am that coward male who reminds myself each day that I am the man , takes my penis out and masturbate till i ejaculate the infused fears thinking her...And standing along with the crowds to my back I shout " That Bitch
My imperfections don't have the right attitude to change as my perfections don't have the peace of mind trying to change it.
The illusion started to vanish & so does my consciousness and I closed my eyes . Every thing is just peace.
After working for years, in the end days, people realize its peace for what they have worked for all those years by loosing the peace.
Silence is nonfunctional and yet a functional way of cleaning the garbage in our minds.