John Henry Newman Quotes
John Henry Newman Quotes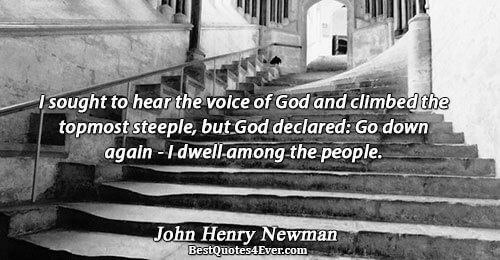 I sought to hear the voice of God and climbed the topmost steeple, but God declared: "Go down again - I dwell among the people.
Good is never accomplished except at the cost of those who do it, truth never breaks through except through the sacrifice of those who spread it.
A university training is the great ordinary means to a great but ordinary end; it aims at raising the intellectual tone of society…It is the education which gives a man a clear conscious view of his own opinions and judgments, a truth in developing them, an eloquence in expressing them and a force in urging them.
I shall drink to the Pope, if you please, still, to conscience first, and to the Pope afterwards.
A great memory does not make a mind, any more than a dictionary is a piece of literature.