Rebecca McNutt Quotes
Rebecca McNutt Quotes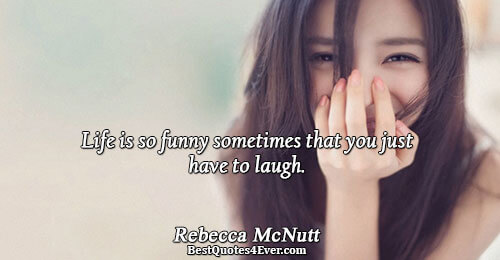 Life is so funny sometimes that you just have to laugh.
People say that a time machine can't be invented, but they've already invented a device that can stop time, cameras are the world's first time machines.
Film photography will always be superior to digital - because no matter how many lasers and instant buttons and HD pixels you've got, a human being can take a photograph with much more integrity and meaning than one a built-in robot took.
You don't understand," Alecto replied vacantly. "It isn't that I want to die... I just don't want to exist.
Friends are like the stars that glow in the sky... you don't always see them, but you know they're always there overhead, and even when it's cloudy, snowy or stormy, even when the power goes out and you're trapped in darkness, they'll always find a way to shine through to you.
photographs are very interesting, and you can look into them a million times and still find a new meaning in them, something in the past that was caught in the film itself…
Mandy loved the smell of a sunny day after a night of rain. The sun hit the orange puddles, the overgrown, soft, green grass on her lawn, and it beamed down through the orange steel mill smog, sending otherworldly, bizarre shadows across the concrete sidewalk.
A picture's worth a thousand words. But a single word can make you think of over a thousand pictures in your mind, over a thousand moments, a thousand memories.
Nobody has ever taken a photograph of something they want to forget. We can build a wall of happy Kodak moments around ourselves, a wall of our Christmases, birthdays, baby showers and weddings, but we can never forget that celluloid film is see-through, that behind it, all the misery of real life waits for our wall to collapse someday.
So many people spend years (and money) studying to be doctors, lawyers, actors, dancers, business executives and scientists - when you're an author, you can be any of these things, and you don't need a degree or certificate; all you need is an imagination, a dream and an open mind.
I'll remember you... I remember everyone I've lost.
Mandy would much rather have imaginary friends who were real than real friends who were imaginary.
I never trust anyone", Alecto told Mandy as wisps of smoke drifted from his cigarette. "Treachery is the unfortunate result of any friendships I've ever had. I don't need friends anyway, what I want is to be left alone to carry out my work... it's a dangerous world and we're just on borrowed time, all of us... even you.
Truthfully she felt incredibly miserable, seeing university students and tourists bustling in and out of the place with their cell phones in hand, texting like there was no tomorrow. Living behind a screen, they'd likely text with their last breath.