Tom Giaquinto Quotes
Tom Giaquinto Quotes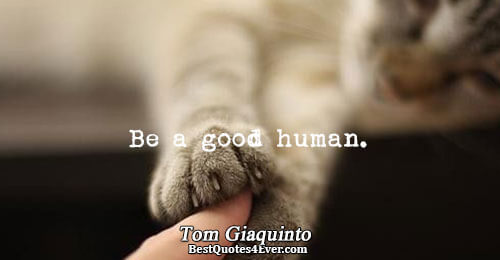 Be a good human.
Making this a better world happens one person at a time. You cannot force your beliefs on anyone. Rather, be the example that others can emulate. Live your life so that others may be inspired by your words and deeds. That's how change happens.
There is so much beauty in the world, but you must allow yourself to see it.
Sometimes, there is a lot of darkness in this world. As I see it, you have two choices. You can be a part of that darkness or you can be the light. Be the light.
People tend to focus on the things that they don't like about themselves. While that's important for change, it's equally important to focus on what they love about themselves. For every one thing you dislike about yourself, think of five things you like about yourself. It's a balancing act.
You always need to work hard. You always need to be willing to work hard. Not everything will be hard, but you should, at the very least, be willing to work hard.
Every night I tell my children all of the things that I love about them. I tell them how proud I am of their accomplishments and how much better our lives have been since they were born. I hope they will always realize how much they are loved and valued. I feel so blessed that they are in my life.
PATH TO SUCCESS: DREAM. PLAN. DO. FAIL. NEVER GIVE UP. FAIL. NEVER GIVE UP. FAIL. NEVER GIVE UP. ACHIEVE! IT'S A MESSY JOURNEY.