Bob Marley Quotes - Page 2
Biography

Type: Singer, Songwriter, Musician, Guitarist

Born: 6 February 1945

Died: 11 May 1981

Robert Nesta "Bob" Marley,(6 February 1945 – 11 May 1981) was a Jamaican reggae singer, song writer, musician, and guitarist who achieved international fame and acclaim. Starting out in 1963 with the group The Wailers, he forged a distinctive songwriting and vocal style that would later resonate with audiences worldwide. The Wailers would go on to release some of the earliest reggae records with producer Lee Scratch Perry. Bob Marley was a member for some years of the Rastafari movement, whose culture was a key element in the development of reggae. Bob Marley became an ardent proponent of Rastafari, taking their music out of the socially deprived areas of Jamaica and onto the international music scene.
Bob Marley Best Life Quotes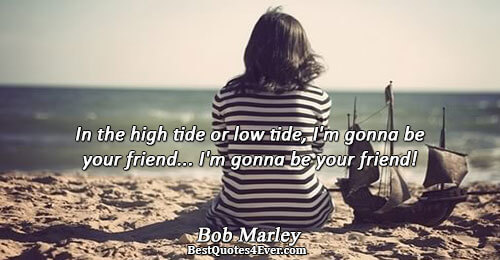 In the high tide or low tide, I'm gonna be your friend... I'm gonna be your friend!
Bob Marley Wiki
Bob Marley At Amazon