Deb Caletti Quotes
Deb Caletti Quotes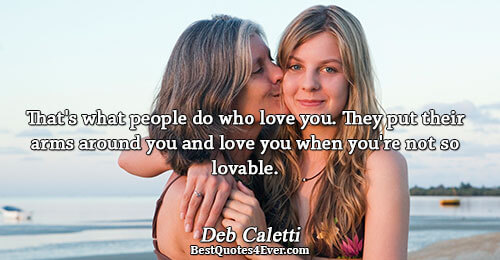 That's what people do who love you. They put their arms around you and love you when you're not so lovable.
When what you want is a relationship, and not a person, get a dog.
It's good to let God pick a man for you. We don't do so well when we pick them ourselves. They end up lipsticks in a drawer, all those wrong colors you thought looked so good in the package.
Maybe a person's world can grow bigger in all the right ways, not too wide that it becomes shallow, just large enough to preserve its depth.
More than anything, I like just being there while he works, doing what he knows to do, in his own place.
In a world of insanity, nothing is sacred. It's an insane world, nothing is sacred.
You've got to have someone who loves your body. Who doesn't define you, but sees you. Who loves what he sees. Who you don't have to struggle to be good enough for.
I shouldn't have to be a liar to make someone love me. I shouldn't be so afraid of losing someone that I'll do anything to make them stay.
It took me years to figure out that upset was upset, and tumultuousness was not the same thing as passion. Love isn't drama.
This is what I know. Don't settle for 40, 50, or even 80 percent. A relationship-it shouldn't be too small or too tight or even a little scratchy. It shouldn't take up space in your closet out of guilty conscience or convenience or a moment of desire. Do you hear me? It shold be perfect for you. It should be lasting. Wait. wait for 100 percent.
Those questions you have? Whether he's the one, whether you feel about him the way you should, or whether the relationship is going okay? When you're not sure whether you're in love with someone or not, the answer is not.
I've heard that people stand in bad situations because a relationship like that gets turned up by degrees. It is said that a frog will jump out of a pot of boiling water. Place him in a pot and turn it up a little at a time, and he will stay until he is boiled to death. Us frogs understand this.
You can forget that other people carry pieces of your own story around in their heads. I've always thought-put together all those random pieces form everyone who's ever known you from your parents to the guy who once sat next to you on a bus, and you'd probably see a fuller version of your life than you even did while living it.
The magic of purpose and of love in its purest form. Not televison love, with its glare and hollow and sequined glint; not sex and allure, all high shoes and high drama, everything both too small and in too much excess, but just love. Love like rain, like the smell of a tangerine, like a surprise found in your pocket.
To an untrained eye, need and love were as easily mistaken for each other as the real master's painting and a forgery.
A person is never as quiet or unrestrained as they seem, or as bad or good, as vulnerable or as strong, as sweet or as feisty; we are thickly layered, page lying upon page, behind simple covers. And love - it is not the book itself, but the binding. It can rip us apart or hold us together...Layers, by their nature, are fragile things.
Maybe we all just want to feel special, even for a little while, to be fooled for a bit into feeling something besides the truth of our own ordinariness.
Maybe it was wrong, or maybe impossible, but I wanted the truth to be one thing. One solid thing.
Truth was funny, because it was an insistent thing, maybe as powerful and insistent as some force of nature, the push of water or wind. You could keep it out only so long, but it had its own will and its own needs, and maybe you could keep it at bay with lies, but not for long, not for always.
I could forget that part, but it had to have been true.
If happiness shouldn't make you so miserable, misery shouldn't make you so happy.
Sometimes you can cattle rope your heart and sometimes you can't, is all.
What is it about hairdressers? You tell them 'not too short' and some part of their hairdresser brain hears this as 'whack the shit out of it.' If you never say, 'not too short,' everything is fine. You say it, & it's a guarantee you'll come out ready for the military>
They say religion is about love, but you wonder how much of it really is about fear.
Too often in my life, love has been defined as "humiliation with occasional roses".
So I put up with bad behavior in the name of loving the way I thought you were supposed to love.
A relationship could be a place to hide too.
If time heals all wounds, and a book can hold a person's entire life, then you can speed up the process with a pulp time warp.
We are thickly layered, page lying upon page, behind simple covers. And love - it is not the book itself, but the binding.
Usually, I set one foot in a library and I feel my own internal volume lower. A library is a physical equivalent of a sigh. It's the silence, sure, but it's also the certainty of all those books, the way they stand side by side with their still, calm conviction. It's the reassurance of knowledge in the face of confusion.
Sometimes good choices are really bad ones, wrapped up in so much fear you can't even see straight.
Love doesn't seem to follow a plan; it's not a series of steps. It can hit with the force of nature - an earthquake, a tidal wave, a storm of wild, relentless energy that is beyond your simple attempts at control.
Marriage is like a well-built porch. If one of the two posts leans too much, the porch collapses. So each must be strong enough to stand on its own.
Rejection, though-it could make the loss of someone you weren't even that crazy about feel gut wrenching and world ending.
The most basic and somehow forgettable thing is this: Love is not pain. Love is goodness. And real love-it's less shiny than solid and simple.
I've wished for things and never really had the chance...It's time to stop dreaming and do something about it. You've got to know what you want, then...go.
But what I wanted back had never really been there. He was a temporary illusion, a mirage of water after walking in the desert. I had made him up. And he could have killed me. You've got to stop the ride sometimes. Stop it and get off.
It was about the way a moment, a single moment, could change things and make you decide to try to be someone different.
The loneliness you feel with another person, the wrong person, is the loneliest of all.
And pity-people who inspire it in you are actually very powerful people. To get someone else to take care of you, to feel sorry for you-that takes a lot of strength, smarts, manipulation. Very powerful people.
People are secretive when they have secrets.
Supposedly there's an actual, researched link between extreme creativity and mental illness, and I believe it because I've seen it with my own eyes.
Running away can also be running to.