Eckhart Tolle Quotes
Eckhart Tolle Quotes
To love is to recognize yourself in another.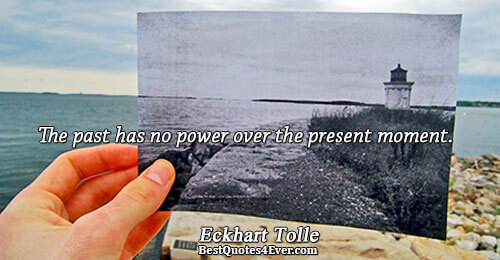 The past has no power over the present moment.
The moment that judgement stops through acceptance of what it is, you are free of the mind. You have made room for love, for joy, for peace.
Life isn't as serious as the mind makes it out to be.
Realize deeply that the present moment is all you will ever have.
What will be left of all the fearing and wanting associated with your problematic life situation that every day takes up most of your attention? A dash, one or two inches long, between the date of birth and date of death on your gravestone.
every complaint is a little story the mind makes up that you completely believe in.
Man made God in his own image...
As soon as you honor the present moment, all unhappiness and struggle dissolve, and life begins to flow with joy and ease. When you act out the present-moment awareness, whatever you do becomes imbued with a sense of quality, care, and love - even the most simple action.
Reading is my passion and my escape since I was 5 years old. Overall, children don't realize the magic that can live inside their own heads. Better even then any movie.
Is there a difference between happiness and inner peace? Yes. Happiness depends on conditions being perceived as positive; inner peace does not.
I have lived with several Zen masters - all of them cats.
Can you look without the voice in your head commenting, drawing conclusions, comparing, or trying to figure something out?
The primary cause of unhappiness is never the situation, but you thoughts about it. Be aware of the thoughts you are thinking.
Death is a stripping away of all that is not you. The secret of life is to "die before you die" - and find that there is no death.
Die before you die and find that there is no death.
Some churches, sects, cults or religious movements are basically collective egoic entities, as rigidly identified with their mental positions as the followers of any political ideology that is closed to any alternative interpretation of reality.
Those who do not attempt to appear more than they are but are simply themselves, stand out as remarkable and are the only ones who truly make a difference in this world.
Time isn't precious at all, because it is an illusion. What you perceive as precious is not time but the one point that is out of time: the Now. That is precious indeed. The more you are focused on time - past and future - the more you miss the Now, the most precious thing there is.
Su tarea no es buscar amor sino encontrar una puerta a través de la cual el amor pueda entrar"
.
Solamente lo eterno de nosotros puede reconocer la temporalidad de lo temporal
La llegada del desorden a la vida de una persona con el consiguiente colapso del significado definido por la mente, puede constituir la puerta a un orden superior.
You realize your true identity as consciousness itself, rather than what consciousness has identified with. That's the peace of God. The ultimate truth of who you are is not I am this or I am that, but I Am.
The mind-identified state is severely dysfunctional.
How "spiritual" you are has nothing to do with what you believe, but everything to do with your state of consciousness.
The more you make your thoughts (beliefs) into your identity, the more cut off you are from the spiritual dimension within yourself.
True communication is communion- the realization of oneness, which is love.
Be the silent watcher of your thoughts and behavior. You are beneath the thinker. You are the stillness beneath the mental noise. You are the love and joy beneath the pain.
Where there is anger there is always pain underneath.
You find peace not by rearranging the circumstances of your life, but by realizing who you are at the deepest level.
Whenever tragic loss occurs, you either resist or you yield. Some people become bitter or deeply resentful; others become compassionate, wise, and loving. Yielding means inner acceptance of what is.You are open to life.
I don't know" is not confusion. Confusion is "I don't know, but I should know" or "I don't know, but I need to know." When you fully accept that you don't know, you actually enter a state of peace and clarity that is closer to who you truly are than thought could ever be. Defining yourself through thought is limiting yourself.
Watch any plant or animal and let it teach you acceptance of what is, surrender to the Now.
Let it teach you Being.
Let it teach you integrity - which means to be one, to be yourself, to be real.
Let it teach you how to live and how to die, and how not to make living and dying into a problem.
Whatever you think the world is withholding from you, you are withholding from the world.
You will enjoy any activity in which you are fully present...
Some changes look negative on the surface but you will soon realize that space is being created in your life for something new to emerge.
Ego-generated emotions are derived from the mind's identification with external factors which are, of course, all unstable and liable to change at any moment.
When you no longer perceive the world as hostile, there is no more fear, and when there is no more fear, you think, speak and act differently.
There is only one perpetrator of evil on the planet: human unconsciousness. That realization is true forgiveness. With forgiveness, your victim identity dissolves, and your true power emerges-the power of Presence. Instead of blaming the darkness, you bring in the light.
All problems are illusions of the mind.
Note: The mind is a superb interment if used rightly. Used wrongly, however, it becomes very destructive. To put it more accurately, it is not so much that you use your mind wrongly - you usually don't use it at all. It uses you. This is the disease. You believe that you are your mind. This is the delusion. The instrument has taken you over.
Consciousness is a vast ocean and thinking is the
waves & ripples on the surface of the ocean. Every wave & ripple has a very short lived life - it is very fleeting

Do not identify with your thoughts - continued indentification with the stream of thinking leads to a very serious dysfunction in ones sense of identity...
The mind is a superb instrument if used rightly. Used wrongly, however, it becomes very destructive.