Jonathan Anthony Burkett Quotes
Jonathan Anthony Burkett Quotes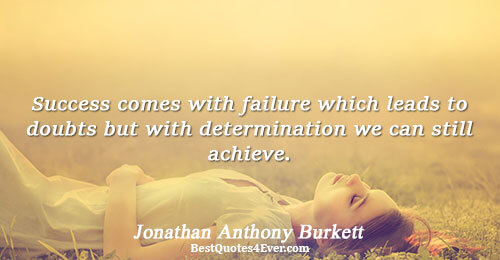 Success comes with failure which leads to doubts but with determination we can still achieve.
After listening and getting to know more about you. Also, feeling a deep connection between us that goes beyond physical attraction. I'm beginning to feel for, so much more than the friendship that I waited to grow with you. I'm not going to try and rush things. However, I don't want to wait until it's to late.
We all fight for money, some for power, but most of all for love. But me, I fight to become a champion.
Been living on this earth for so long now and still don't know what a happy life feels like. I'm ready for a change.
I don't the life of a thug. I live the life of a sinner.
Do you consider yourself a blessing or just another person?
You know my name, not my story. You've heard what I've done, but not what I've been through.
It's better to have a few faithful friends than numerous shallow friendships.
I can only be me not thee, as far as the eyes can see!
If two people are meant for one another, that doesn't mean that they have to rush and be together right away. Real love takes time to grow, just like how it takes time to grow from children to adults.
I live to inspire, not start the fire.
I rather now strive to reach rather than wait to receive!
You never know who's waiting for you and you never know when love is coming your way or who it might be. But let me just say, a healthy relationship requires SACRIFICE and DEDICATION.
Look for the heart in a man before you look at what he has.
Faith doesn't get you around problems in life and relationships, it gets you through it.
When all one person do is complain, people don't want to talk or listen to them.
It all comes down to that one person you always think about before you fall asleep at night. And text "Good Morning" as soon as you wake up.
Strong relationships come from well-bonded friendships.
The best foundation for relationships to grow, flourish, and succeed is a deep-rooted friendship.
Faith is why I'm here today and faith is why I made it through.
Holding on to the past will hold you down in life. Learn from it but move on.
Be confident in your approach to success in having a better future. Take risks, try new things, become diligent, and find new techniques because in the end you will develop a compelling emotional element.
It's risky most of the time, but its better to listen to your heart.
You can be the ugliest man in the world but once you got money, you can have all the women in the world.
You won't ever know, unless you try!
There may never be world peace but there will always be love.
It's faith that got me here. So it's faith that will get me through.
True best friends never fail on understanding, forgiving, and being there for one another no matter what situation that they might be in or having with one another because of the fact of that no matter if it's two males or females love should always be there as if brothers or sisters if their what we call best friends.
Whether we like it or not, we need each other.
Death, I've dreamed of it, I've desired it, but what real happiness can come from it?
If you fall still stand your ground and strive for that new start.
Its a matter of time that the money I make become a financial cake that I could eat everyday.
When you pray and hope for a change. Don't expect a change to come. Expect the opportunity for a change to come.
We're all made the same but then born to change. Which then don't make us the same.
Anger makes you smaller, while forgiveness forces you to grow beyond who you were.
Stop worrying about being that perfect person because no one is perfect. Put your focus on being that right person that will love, understand, and care for that other.
Single life is the best life until you get hit by lonely nights.
For a permanent solution to easing tension and soothe the rough waters of the world that cause people to go to drugs, drinking, gambling, pornography, overeating, or anything that will give them some temporary relief, you can't beat the support and encouragement of a friend.
This life is like a game, so you better play it right!
Saving money won't get us rich. You have to spend it to get it.
Opportunities are born by learning!
Grind until you get it no matter what the haters say and never look back, keep striving cause its your life.
I'm the man that'll make your nights shine bright like day light.
In life we all should learn to forgive but never forget. Best way to learn from our mistakes.