Sanhita Baruah Quotes
Sanhita Baruah Quotes
To write is to reveal oneself.
When I write something, fiction or non-fiction, I do not expect you to accept what I write, nor to agree with what I propose.
I expect you to spend at least a tenth of a second to think about it - may be not about the characters, nor about the piece, but at least about the idea.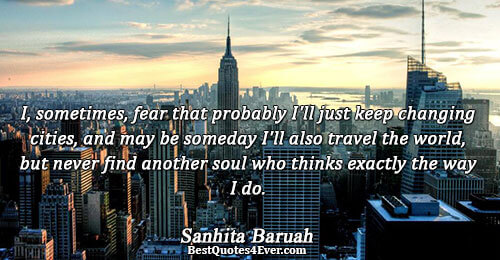 I, sometimes, fear that probably I'll just keep changing cities, and may be someday I'll also travel the world, but never find another soul who thinks exactly the way I do.
Some selfish people rise because some kind people haven't learned the art of saying no to them.
There were two and only two messages that could have been comprehended by what he said.

But neither of them was soothing; neither of them was a lie.
Let it rain on some days,
Let yourself shiver on some cold nights,
So when it's Spring you'll know why it was all worth going through.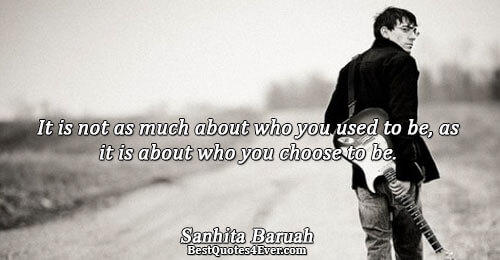 It is not as much about who you used to be, as it is about who you choose to be.
Don't bring me the stars from the sky,
I'm planting sunshine in my backyard.
Even when it seems that there is no one else, always remember there's one person who never ceased to love you - yourself.
I'd rather be not the light in your life
The bright day might make me obscure
I'd rather be the cold darkness
For it remains, unseen, uncertain and unsure
You realize you've forgiven people, your past and yourself when you don't speak bad about them anymore, even if you're encouraged to do so, even if you remember you were once brutally broken because of them...

you just move on, let go, let them be and let yourself be...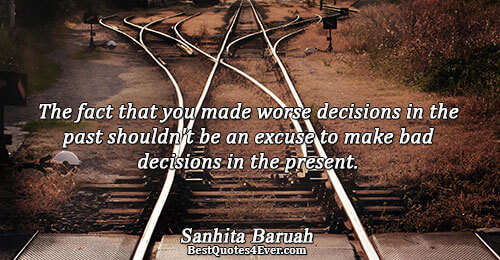 The fact that you made worse decisions in the past shouldn't be an excuse to make bad decisions in the present.
You will never get everything in life but you will get enough.
Never follow the crowd....

Until and unless you're crossing the road...
Congratulations.
You've just been demoted from the "pity" sector to the "apathy" sector.
To check the validity of this offer you can ask if anyone cares.
To cancel your subscription, go get a life.
Thank you.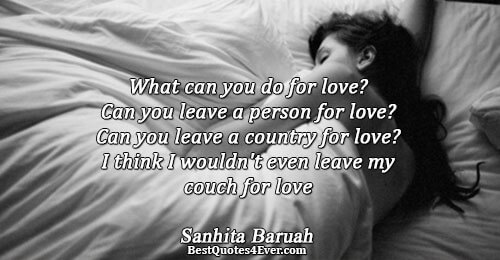 What can you do for love?
Can you leave a person for love?
Can you leave a country for love?
I think I wouldn't even leave my couch for love
I am an optimist and when I am too sure of something or someone, well, of course it turns out that I am wrong

.. at other situations, I imagine the worst and needless to say, I am again wrong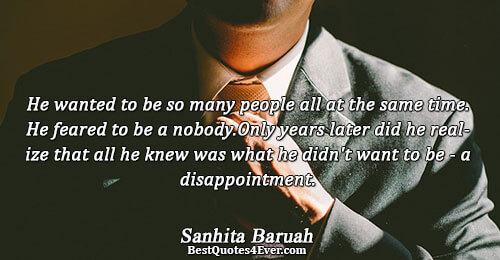 He wanted to be so many people all at the same time. He feared to be a nobody.
Only years later did he realize that all he knew was what he didn't want to be - a disappointment.
I knelt in front of life, folded my hands and prayed for some more time; there couldn't be any. My heart bled and so did my tearful eyes.
Time, they say, flies, but I saw it slowly passing by taking each of my tardy breaths with it as it walked out of my life...
Loving is effortless.. while Relationships, they require your time and patience... the two things we all lack..
But sometimes, when she'd be all by herself, walking home late in the evening on a crowded street she'd be afraid of her own shadow following her...
After torturing our adrenaline by watching a horror movie for a couple of hours the places we are most afraid of are the doors and windows of the room even though they are the only ways for us to escape in case of occurrence such an event.
There was this constant urge in me to tear my insides apart,
I didn't know why. By the time I made my mind that it was impossible for me
to do, there alighted the fear, haunting me with the words that rang
constantly in my head, "You're not brave enough".



I didn't feel devastated, I felt the urge to be devastated.
In the midst of the vagaries of life, they provide us a trip to the land of goodness and fairies, of imaginations and possibilities.
A childhood that wasn't spent watching cartoons or reading comic strips, no wonder, seems too dull to imagine.
It will be foolish not to get your heart broken, even once.
For having a broken heart makes you realize the immense capability it possesses to mend and heal itself and to love far more intensely,with every affixed piece of it that was once broken and torn apart..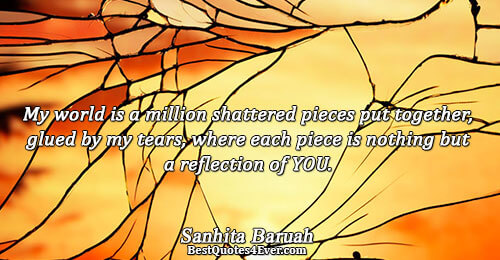 My world is a million shattered pieces put together, glued by my tears, where each piece is nothing but a reflection of YOU.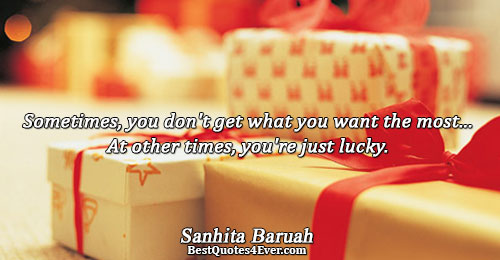 Sometimes, you don't get what you want the most... At other times, you're just lucky.
No matter how "normal" people look, living "ordinary" lives, everyone has a story to tell. And may be, just like you, everyone else is a misfit too.
When you know the inside stories, no matter how good looks the cover, you just cannot appreciate it...
Life is, at times, tough...

And all we need to do is to prove that we are tougher than it...
Fictions are realities we don't think of, that are happening to people we know nothing about.
Those were the three words seldom asked to her.

Yet, she knew they hold a healing power in them; For they bring a million thoughts to the mind and more to the soul; For the answer is far deeper than what is simply said on the face.

She understood, so she asked him what was seldom asked to her,

"How are you?
There's nothing more unattractive than a man who blames predestination for his own failures and a woman who blames men for her own vulnerability...

Blame thyself