Scott Adams Quotes
Scott Adams Quotes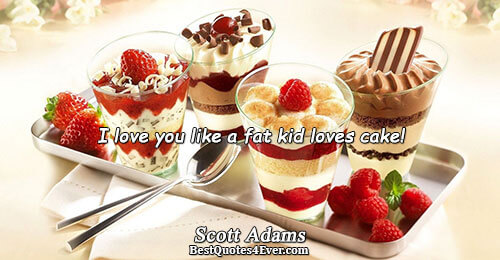 I love you like a fat kid loves cake!
Give a man a fish, and you'll feed him for a day. Teach a man to fish, and he'll buy a funny hat. Talk to a hungry man about fish, and you're a consultant.
Life is half delicious yogurt, half crap, and your job is to keep the plastic spoon in the yogurt.
Ask a deeply religious Christian if he'd rather live next to a bearded Muslim that may or may not be plotting a terror attack, or an atheist that may or may not show him how to set up a wireless network in his house. On the scale of prejudice, atheists don't seem so bad lately.
You're thinking I'm one of those wise-ass California vegetarians who is going to tell you that eating a few strips of bacon is bad for your health. I'm not. I say its a free country and you should be able to kill yourself at any rate you choose, as long as your cold dead body is not blocking my driveway.
If there are no stupid questions, then what kind of questions do stupid people ask? Do they get smart just in time to ask questions?
The first time you see something that you have never seen before, you almost always know right away if you should eat it or run away from it.
The best you can hope for in a relationship is to find
someone whose flaws are the sort you don't mind. It is
futile to look for someone who has no flaws, or someone
who is capable of significant change; that sort of person
exists only in our imaginations.
Sometimes idiots can accomplish wonderful things.
Theory of Evolution (Summary)

First, there were some amoebas. Deviant amoebas adapted better to the environment, thus becoming monkeys. Then came Total Quality Management.
Idiocy in the modern age isn't an all-encompassing, twenty-four-hour situation for most people. It's a condition that everybody slips into many times a day. Life is just too complicated to be smart all the time.
Lately...the Peter Principle has given way to the "Dilbert Principle." The basic concept of the Dilbert Principle is that the most ineffective workers are systematically moved to the place where they can do the least damage: management.
The Cheesecake Factory is a great business model, but if you take your wife there for your 25th wedding anniversary, you might not reach your 26th.
If you want to understand UFOs, reincarnation and God, do not study UFOs, reincarnation and God. Study people.
Creativity is allowing yourself to make mistakes. Art is knowing which ones to keep.