William Wordsworth Quotes
William Wordsworth Quotes
Dreams, books, are each a world; and books, we know,
Are a substantial world, both pure and good:
Round these, with tendrils strong as flesh and blood,
Our pastime and our happiness will grow.
With an eye made quiet by the power of harmony, and the deep power of joy, we see into the life of things.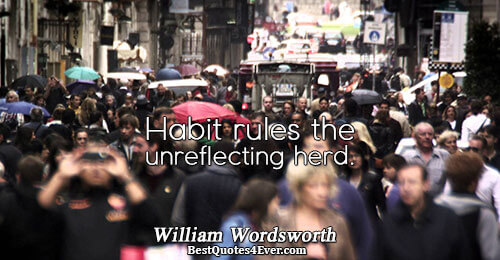 Habit rules the unreflecting herd.
Books! tis a dull and endless strife:
Come, hear the woodland linnet,
How sweet his music! on my life,
There's more of wisdom in it.
Though nothing can bring back the hour
Of splendor in the grass, of glory in the flower;
We will grieve not, rather find
Strength in what remains behind;
In the primal sympathy
Which having been must ever be...
The thought of our past years in me doth breed Perpetual benediction: not indeed For that which is most worthy to be blest - Delight and liberty, the simple creed Of Childhood, whether busy or at rest, With new-fledged hope still fluttering in his breast.
Nature never did betray
The heart that loved her.
Poetry is the spontaneous overflow of powerful feelings: it takes its origin from emotion recollected in tranquility.
My heart leaps up when I behold
A rainbow in the sky:
So was it when my life began;
So is it now I am a man;
Our birth is but a sleep and a forgetting:
The Soul that rises with us, our life's Star,
Hath had elsewhere its setting,
And cometh from afar:
Not in entire forgetfulness,
And not in utter nakedness,
But trailing clouds of glory do we come
For I have learned to look on nature, not as in the hour of thoughtless youth; but hearing oftentimes the still, sad music of humanity.
When from our better selves we have too long
Been parted by the hurrying world, and droop,
Sick of its business, of its pleasures tired,
How gracious, how benign, is Solitude
The eye-it cannot choose but see;
We cannot bid the ear be still;
Our bodies feel, where'er they be,
Against or with our will.
One impulse from a vernal wood
May teach you more of man,
Of moral evil and of good,
Than all the sages can.
Sweet is the lore which Nature brings;
Our meddling intellect
Mis-shapes the beauteous forms of things: -
We murder to dissect.
[...]the stately and slow-moving Turk,
With freight of slippers piled beneath his arm.
What we have loved, others will love, and we will teach them how; instruct them how the mind of man becomes a thousand times more beautiful than the earth on which he dwells...
I wandered lonely as a cloud
That floats on high o'er vales and hills
When all at once I saw a crowd
A host of golden daffodils
Beside the lake beneath the trees
Fluttering and dancing in the breeze.
Come forth, and bring with you a heart
That watches and receives.
The power of any art is limited
I listen'd, motionless and still;
And, as I mounted up the hill,
The music in my heart I bore,
Long after it was heard no more.
But thou art with us, with us in the past,
The present, with us in the times to come.
There is no grief, no sorrow, no despair,
No languor, no dejection, no dismay,
No absence scarcely can there be, for those
Who love as we do. Speed thee well!
Society has parted man from man, neglectful of the universal heart.