Christopher Hitchens Quotes
Biography
Type: Author, essayist, orator, religious and literary critic, and journalist
Born: 13 April 1949
Died: 15 December 2011 (aged 62)
Christopher Eric Hitchens was an author, essayist, orator, religious and literary critic, and journalist. Hitchens was born and raised in the United Kingdom but spent much of his career in the United States, becoming a US citizen in 2007.
Christopher Hitchens Quotes
For God so loved the world, that he gave his only begotten Son, that whosoever believeth in him will believeth in anything. - Hitchens 3:16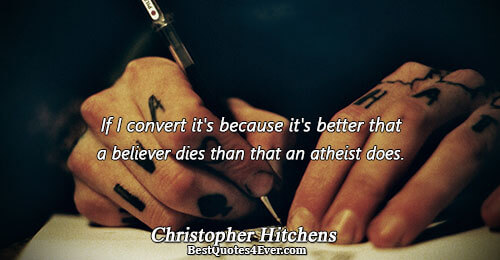 Forget it. Never explain; never apologize. You can either write posthumously or you can't.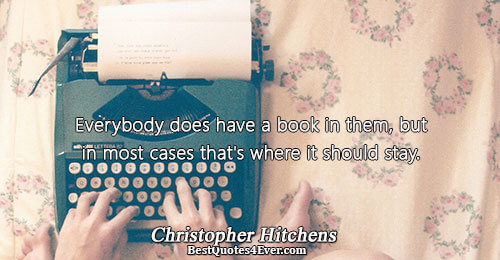 Everybody does have a book in them, but in most cases that's where it should stay.
My own opinion is enough for me, and I claim the right to have it defended against any consensus, any majority, anywhere, any place, any time. And anyone who disagrees with this can pick a number, get in line, and kiss my ass.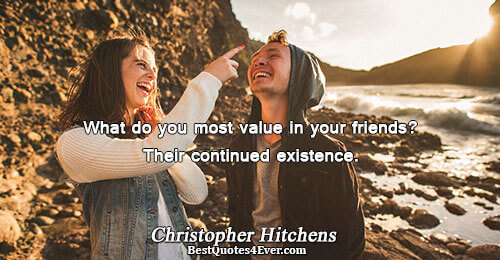 What do you most value in your friends?
Their continued existence.
There is some relationship between the hunger for truth and the search for the right words. This struggle may be ultimately indefinable and even undecidable, but one damn well knows it when one sees it.
Hardest of all, as one becomes older, is to accept that sapient remarks can be drawn from the most unwelcome or seemingly improbable sources, and that the apparently more trustworthy sources can lead one astray.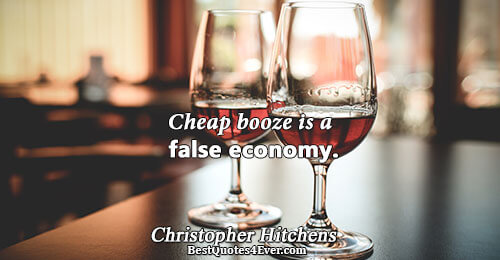 Cheap booze is a false economy.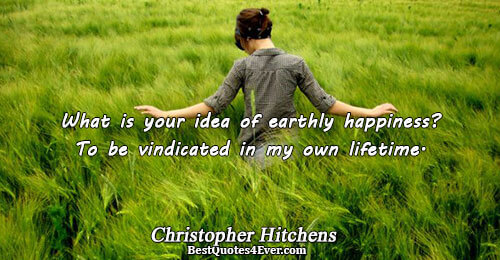 What is your idea of earthly happiness? To be vindicated in my own lifetime.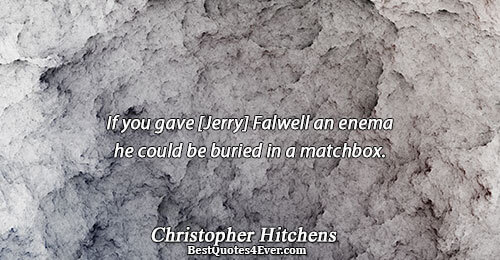 If you gave [Jerry] Falwell an enema he could be buried in a matchbox.
Your least favorite virtue, or nominee for the most overrated one? Faith. Closely followed - in view of the overall shortage of time - by patience.
Do I fear death? No, I am not afraid of being dead because there's nothing to be afraid of, I won't know it. I fear dying, of dying I feel a sense of waste about it and I fear a sordid death, where I am incapacitated or imbecilic at the end which isn't something to be afraid of, it's something to be terrified of.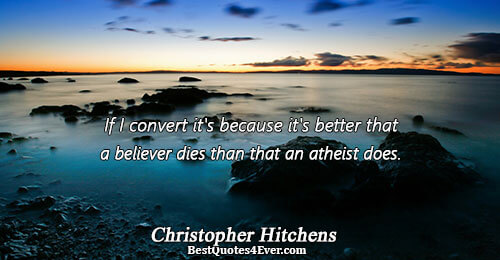 If I convert it's because it's better that a believer dies than that an atheist does.
I have not been able to discover whether there exists a precise French equivalent for the common Anglo-American expression 'killing time.' It's a very crass and breezy expression, when you ponder it for a moment, considering that time, after all, is killing us.
Not since North Korean media declared Kim Jong-il to be the reincarnation of Kim Il Sung has there been such a blatant attempt to create a necrocracy, or perhaps mausolocracy, in which a living claimant assumes the fleshly mantle of the departed.
Of course what I'm about to share isn't true for me but...

Friends, somebody said, are "god's apology for relations." (p. 129)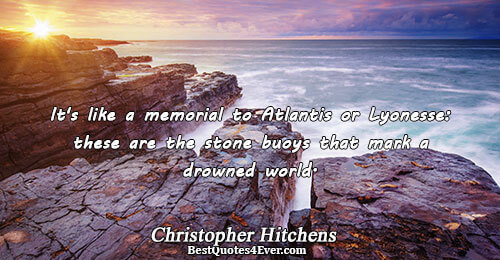 It's like a memorial to Atlantis or Lyonesse: these are the stone buoys that mark a drowned world.
Unless a reincarnationist is willing to say there was a 'first generation' of souls created with the first humans, he is exposed to absurdity by the recency of human life on the planet.
Owners of dogs will have noticed that, if you provide them with food and water and shelter and affection, they will think you are god. Whereas owners of cats are compelled to realize that, if you provide them with food and water and shelter and affection, they draw the conclusion that they are gods.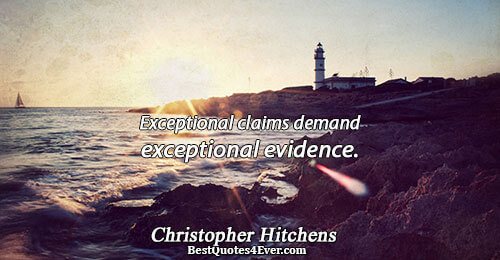 [E]xceptional claims demand exceptional evidence.
The Bible may, indeed does, contain a warrant for trafficking in humans, for ethnic cleansing, for slavery, for bride-price, and for indiscriminate massacre, but we are not bound by any of it because it was put together by crude, uncultured human mammals.
Why do humans exist? A major part of the answer: because Pikaia Gracilens survived the Burgess decimation.
We owe a huge debt to Galileo for emancipating us all from the stupid belief in an Earth-centered or man-centered (let alone God-centered) system. He quite literally taught us our place and allowed us to go on to make extraordinary advances in knowledge.
In ridiculing a pathetic human fallacy, which seeks explanation where none need be sought and which multiplies unnecessary assumptions, one should not mimic primitive ontology in order to challenge it. Better to dispose of the needless assumption altogether. This holds true for everything from Noah's flood to the Holocaust.
There either is a god or there is not; there is a 'design' or not.
Hesitate once, hesitate twice, hesitate a hundred times before employing political standards as a device for the analysis and appreciation of poetry.
To terrify children with the image of hell, to consider women an inferior creation - is that good for the world?
Human decency is not derived from religion. It precedes it.
We keep on being told that religion, whatever its imperfections, at least instills morality. On every side, there is conclusive evidence that the contrary is the case and that faith causes people to be more mean, more selfish, and perhaps above all, more stupid.
I suppose that one reason I have always detested religion is its sly tendency to insinuate the idea that the universe is designed with 'you' in mind or, even worse, that there is a divine plan into which one fits whether one knows it or not. This kind of modesty is too arrogant for me.
Many religions now come before us with ingratiating smirks and outspread hands, like an unctuous merchant in a bazaar. They offer consolation and solidarity and uplift, competing as they do in a marketplace. But we have a right to remember how barbarically they behaved when they were strong and were making an offer that people could not refuse.
What is it you most dislike? Stupidity, especially in its nastiest forms of racism and superstition.
To 'choose' dogma and faith over doubt and experience is to throw out the ripening vintage and to reach greedily for the Kool-Aid.
How dismal it is to see present day Americans yearning for the very orthodoxy that their country was founded to escape.
I try to deny myself any illusions or delusions, and I think that this perhaps entitles me to try and deny the same to others, at least as long as they refuse to keep their fantasies to themselves.
Indeed, it's futile to try and use Holy Scripture to support any political position. I deeply distrust anyone who does. Just look at what an Islamic Republic is like.
Who are your favorite heroines in real life? The women of Afghanistan, Iraq, and Iran who risk their lives and their beauty to defy the foulness of theocracy. Ayaan Hirsi Ali and Azar Nafisi as their ideal feminine model.
I have been called arrogant myself in my time, and hope to earn the title again, but to claim that I am privy to the secrets of the universe and its creator - that's beyond my conceit.
It's a curious thing in American life that the most abject nonsense will be excused if the utterer can claim the sanction of religion. A country which forbids an established church by law is prey to any denomination. The best that can be said is that this is pluralism of a kind.
A wide and vague impression exists that so-called Eastern religion is more contemplative, innocuous, and humane than the proselytizing monotheisms of the West. Don't believe a word of this: try asking the children of Indochina who were dumped by their parents for inherited deformities that were attributed to sins in a previous 'life.
In a public dialogue with Salman in London he [Edward Said] had once described the Palestinian plight as one where his people, expelled and dispossessed by Jewish victors, were in the unique historical position of being 'the victims of the victims': there was something quasi-Christian, I thought, in the apparent humility of that statement.
If only religion were an opiate. No known narcotic rots the brain so fast.
We can always be sure of one thing - that the messengers of discomfort and sacrifice will be stoned and pelted by those who wish to preserve at all costs their own contentment. This is not a lesson that is confined to the Testaments.
In the early days of the December that my father was to die, my younger brother brought me the news that I was a Jew. I was then a transplanted Englishman in America, married, with one son and, though unconsoled by any religion, a nonbelieving member of two Christian churches. On hearing the tidings, I was pleased to find that I was pleased.
The sad thing is that so many people, in the belief that the universe is organized to suit and influence them, are willing to sacrifice even the slight cranial capacity with which evolution has equipped us.
The Auden/Kallman relationship had this to be said for it: It affirmed that it's better to be blatant than latent.
That which can be asserted without evidence, can be dismissed without evidence.
God did not create man in his own image. Evidently, it was quite the other way about, which is the painless explanation for the profusion of gods and religions, and the fratricide both between and among faiths, that we see all about us and that has so retarded the development of civilization.
An old joke has an Oxford professor meeting an American former graduate student and asking him what he's working on these days. 'My thesis is on the survival of the class system in the United States.' 'Oh really, that's interesting: one didn't think there was a class system in the United States.' 'Nobody does. That's how it survives.
[He]said something that made it impossible to continue working for him.[The exact words were]You're fired.
In a Pyongyang restaurant, don't ever ask for a doggie bag.
I think that people's sexual preferences are a legitimate subject for humour, dirty humour if at all possible.
It ought to be an offense to be excruciating and unfunny in circumstances where your audience is almost morally obliged to enthuse.
It is exactly the fear of revenge that motivates the deepest crimes, from the killing of the enemy's children lest they grow up to play their own part, to the erasure of the enemy's graveyards and holy places so that his hated name can be forgotten.
What I used to say to people, when I was much more engagé myself, is that you can't be apolitical. It will come and get you. It's not that you shouldn't be neutral. It's that you won't be able to stay neutral.
What better way for a ruling class to claim and hold power than to pose as the defenders of the nation.
It is pardonable for children to yell that they believe in fairies, but it is somehow sinister when the piping note shifts from the puerile to the senile.
Dogma in power does have a unique chilling ingredient not exhibited by power, however ghastly, wielded for its own traditional sake.
Control over the production and distribution of oil is the decisive factor in defining who rules whom in the Middle East.
If you say you're a unifier, you expect and usually get applause. I'm a divider. Politics is division by definition, if there was no disagreement there would be no politics. The illusion of unity isn't worth having, and is anyways unattainable.
You don't say 'they all do it' unless you know you've been doing it too.
The only people truly bound by campaign promises are the voters who believe them.
The whole point about corruption in politics is that it can't be done, or done properly, without a bipartisan consensus.
Don't write in to ask whether I would prefer Gingrich to Clinton. Ask, rather, whether Clinton prefers Gingrich to you. Go triangulate yourself.
The only real radicalism in our time will come as it always has - from people who insist on thinking for themselves and who reject party-mindedness.
Revolution from above, in some states and cases, is [...] often preferable to the status quo, or to no revolution at all.
There is almost no country in Africa where it is not essential to know to which tribe, or which subgroup of which tribe, the president belongs. From this single piece of information you can trace the lines of patronage and allegiance that define the state.
It would not be an exaggeration to say that the land question in Zimbabwe is the single most decisive one.
I have tried to write about politics in an allusive manner that draws upon other interests and to approach literature and criticism without ignoring the political dimension. Even if I have failed in this synthesis, I have found the attempt worth making.
I used to call myself a single-issue voter on the essential question of defending civilization against its terrorist enemies and their totalitarian protectors, and on that 'issue' I hope I can continue to expose and oppose any ambiguity.
Bad as political fiction can be, there is always a politician prepared to make it look artistic by comparison.
The two things he most valued, which is to say liberty and equality, were not natural allies.
But what [Orwell] illustrates, by his commitment to language as the partner of truth, is that 'views' do not really count; that it matters not what you think, but how you think; and that politics are relatively unimportant, while principles have a way of enduring, as do the few irreducible individuals who maintain allegiance to them.
Everything about Christianity is contained in the pathetic image of 'the flock.
The enduring rapture with magic and fable has always struck me as latently childish and somehow sexless (and thus also related to childlessness).
Those of us who are most genuinely repelled by war and violence are also those who are most likely to decide that some things, after all, are worth fighting for.
The 'pre-emption' versus 'prevention' debate may be a distinction without much difference. The important thing is to have it understood that the United States is absolutely serious. The jihadists have in the past bragged that America is too feeble and corrupt to fight. A lot is involved in disproving that delusion on their part.
On page 607, alluding to the end of my first marriage (and carefully remembering to state that that's none of his business), he very sweetly says that I 'might leave a wife, but not a friend.' Nice try. Neat smear. But he shouldn't be so sure....
It's probably a merciful thing that pain is impossible to describe from memory
In Africa, there is a birthrate trap: a higher standard of living will lead to smaller families but smaller families will not lead to a higher standard of living.
Let's just go in and enjoy ourselves,' Yvonne had said after a long moment when the Hitchens family had silently reviewed the menu - actually of the prices not the courses - outside a restaurant on our first and only visit to Paris. I knew at once that the odds against enjoyment had shortened (or is it lengthened? I never remember).
The fragility of love is what is most at stake here - humanity's most crucial three-word avowal is often uttered only to find itself suddenly embarrassing or orphaned or isolated or ill-timed - but strangely enough it can work better as a literal or reassuring statement than a transcendent or numinous or ecstatic one.
The finest fury is the most controlled.
The United States finds itself with forces of reaction. Do I have to demonstrate this? The Taliban's annihilation of music and culture? The enslavement of women?
I defend Salman Rushdie because it a matter of everything I hated versus everything I loved. In the hate column: dictatorship, religion, stupidity, demagogy, censorship, bullying, and intimidation. In the love column: literature, irony, humor, the individual, and the defense of free expression
Martin is your best friend, isn't he?' a sweet and well-intentioned girl once said when both of us were present: it was the only time I ever felt awkward about this precious idea, which seemed somehow to risk diminishment if it were uttered aloud.
To remember friendship is to recall those conversations that it seemed a sin to break off
A melancholy lesson of advancing years is the realisation that you can't make old friends.
Normally, anything done in the name of 'the kids' strikes me as either slightly sentimental or faintly sinister - that redolence of moral blackmail that adheres to certain charitable appeals and certain kinds of politician. (Not for nothing is baby-kissing the synonym for public insincerity.)
The people who must never have power are the humorless. To impossible certainties of rectitude they ally tedium and uniformity.
The quality you most admire in a man? Courage moral and physical: 'anima' - the ability to think like a woman. Also a sense of the absurd.

The quality you most admire in a woman? Courage moral and physical: "anima" - the ability to visualize the mind and need of a man. Also a sense of the absurd.
The Postmodernists' tyranny wears people down by boredom and semi-literate prose.
The search for Nirvana, like the search for Utopia or the end of history or the classless society, is ultimately a futile and dangerous one. It involves, if it does not necessitate, the sleep of reason. There is no escape from anxiety and struggle.
You have to choose your future regrets.
There is a noticeable element of the pathological in some current leftist critiques, which I tend to attribute to feelings of guilt allied to feelings of impotence. Not an attractive combination, because it results in self-hatred.
Obviously, there must be some connection between the subordination of actual individuals and the grotesque exaltation of symbolic ones like Kim Il Sung.
Your favorite occupation? Travel in contested territory. Hard-working writing and reading when safely home, in the knowledge that an amusing friend is later coming to dinner.
What word or expression do you most overuse? Re-reading a collection of my stuff, I was rather startled to find that it was 'perhaps.