Dave Matthes Quotes
Dave Matthes Quotes
Embrace all emotions: sadness, happiness, sorrow, hate, love, prejudice, fear; they are weapons against our greatest enemy: indifference.
I decided to masturbate with shampoo instead of conditioner today. Because yolo. Things Jesus never said.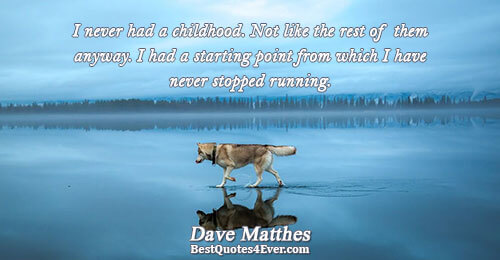 I never had a childhood. Not like the rest of them anyway. I had a starting point from which I have never stopped running.
Being crazy, for the rest of us, is a form of sanity.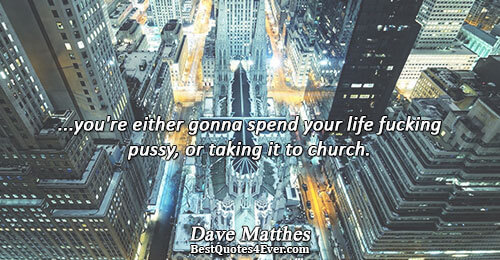 ...you're either gonna spend your life fucking pussy, or taking it to church.
Life will hack off your head and shit down your neck every chance it gets. I've found that consuming drugs and booze, listening to music and always having an excuse in the best way to tip the scales.
Let me ask you this: How many days do you have left, if any, in the life you promised for yourself yesterday?
So you mean to tell me you won't fuck anyone you don't share some kind of deep emotional connection with? What a sad, depressing, truly horrible life you must lead...
Hemingway is overrated,
Twain is even more lost at sea,
And all truths point to the mouth of a woman,
Where both her whispers and her screams,
Are born.
Pour another glass,
Beer, wine, whiskey,
I don't care,
So long as its wisdom is sharp,
And it tells lies instead of promises.
In the hours waking,
when we're still all still,
and you can hear the floorboards creaking,
and you can feel the shades blow in,
the night we slept with,
we'll never kiss like that again.
Our lips, will sever,
our memories, will dissipate,
and our shadows will be swallowed by the sky.
Some people's glasses are half full. I'm the one drinking them.
Some people have forgotten that Pluto is still a planet. I still remember my childhood.
Some people are vegans. I have common sense.
Some people call me Maurice. Some people call me the Gangsta of Love.
Some people just want to live...but me, I'm the one still alive.
Sad, slow music in the small hours of the morning isn't just sad and slow music. It's a narration. And through the myriad of morning dew, we are the twinkling stars that fade with the rising sun.
That's the beautiful thing about innocence; even monsters have a pocketful of childhood memories with which to seek comfort with.
Music is the love child birthed from the boundless freedom found in dreams and the rapturous opposition faced in life; for that, we should be so grateful for both the light and the dark.