Neil DeGrasse Tyson Quotes
Neil DeGrasse Tyson Quotes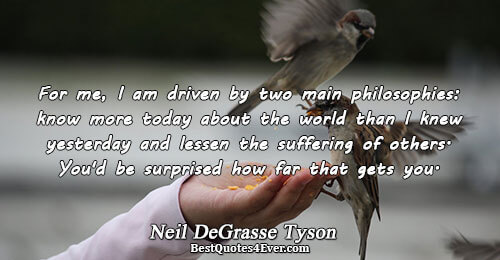 For me, I am driven by two main philosophies: know more today about the world than I knew yesterday and lessen the suffering of others. You'd be surprised how far that gets you.
My view is that if your philosophy is not unsettled daily then you are blind to all the universe has to offer.
We are all connected; To each other, biologically. To the earth, chemically. To the rest of the universe atomically.
God is an ever receding pocket of scientific ignorance.
Where ignorance lurks, so too do the frontiers of discovery and imagination
I would request that my body in death be buried not cremated, so that the energy content contained within it gets returned to the earth, so that flora and fauna can dine upon it, just as I have dined upon flora and fauna during my lifetime
I'd ask [God] why he keeps trying to kill us all with disease, pestilence, and natural disasters. I'd ask why 99% of all species there ever were are now extinct - if God works in mysterious ways, that way is mysteriously genocidal.
... there is no shame in not knowing. The problem arises when irrational thought and attendant behavior fill the vacuum left by ignorance.
... informed ignorance provides the natural state of mind for research scientists at the ever-shifting frontiers of knowledge. People who believe themselves ignorant of nothing have neither looked for, nor stumbled upon, the boundary between what is known and unknown in the cosmos.
It's okay not to know all the answers. It's better to admit our ignorance than to believe answers that might be wrong. Pretending to know everything closes the door to finding out what's already there.
We spend the first year of a child's life teaching it to walk and talk and the rest of its life to shut up and sit down. There's something wrong there.
People cited violation of the First Amendment when a New Jersey schoolteacher asserted that evolution and the Big Bang are not scientific and that Noah's ark carried dinosaurs. This case is not about the need to separate church and state; it's about the need to separate ignorant, scientifically illiterate people from the ranks of teachers.
The more I learn about the universe, the less convinced I am that there's any sort of benevolent force that has anything to do with it, at all.
The good thing about science is that it's true whether or not you believe in it.
I am convinced that the act of thinking logically cannot possibly be natural to the human mind. If it were, then mathematics would be everybody's easiest course at school and our species would not have taken several millennia to figure out the scientific method.
Kids are never the problem. They are born scientists. The problem is always the adults. They beat the curiosity out of kids. They outnumber kids. They vote. They wield resources. That's why my public focus is primarily adults.
When scientifically investigating the natural world, the only thing worse than a blind believer is a seeing denier.
When asked about which scientist he'd like to meet, Neil deGrasse Tyson said, "Isaac Newton. No question about it. The smartest person ever to walk the face of this earth. The man was connected to the universe in spooky ways. He discovered the laws of motion, the laws of gravity, the laws of optics. Then he turned 26.
I want to put on the table, not why 85% of the members of the National Academy of Sciences reject God, I want to know why 15% of the National Academy don't.
Down there between our legs, it's like an entertainment complex in the middle of a sewage system. Who designed that?
There's as many atoms in a single molecule of your DNA as there are stars in the typical galaxy. We are, each of us, a little universe.
As a child, I was aware that, at night, infrared vision would reveal monsters hiding in the bedroom closet only if they were warm-blooded. But everybody knows that your average bedroom monster is reptilian and cold-blooded.
The universe has never made one of anything, so why would there even be one of itself?
To learn that it's easier to be told by others what to think and believe than it is to think for yourself.
It is the destiny of stars to collapse.
Science needs the light of free expression to flourish. It depends on the fearless questioning of authority, and the open exchange of ideas.
The more of us that feel the universe, the better off we will be in this world.
Science literacy is an important part of what it is to be an informed citizen of society.
Science, enabled by engineering, empowered by NASA, tells us not only that we are in the universe but that the universe is in us. And for me, that sense of belonging elevates, not denigrates, the ego.
Some people think emotionally more often than they think politically. Some think politically more often than they think rationally. Others never think rationally about anything at all.
No judgment implied. Just an observation.
When you organize extraordinary missions, you attract people of extraordinary talent who might not have been inspired by or attracted to the goal of saving the world from cancer or hunger or pestilence.
I look forward to the day when the solar system becomes our collective backyard - explored not only with robots, but with the mind, body, and soul of our species.
Science literacy is being plugged into the forces that power the universe. There is no excuse for thinking that the Sun, which is a million times the size of Earth, orbits Earth.
If the whole world shared such experiences, we would then have common dreams and everybody could begin thinking about tomorrow. And if everybody thinks about tomorrow, then someday we can visit the sky together.
The four most common chemically active elements in the universe - hydrogen, oxygen, carbon, and nitrogen - are the four most common elements of life on Earth. We are not simply in the universe. The universe is in us.
The cosmic perspective not only embraces our genetic kinship with all life on Earth but also values our chemical kinship with any yet-to-be discovered life in the universe, as well as our atomic kinship with the universe itself.
Curious that we spend more time congratulating people who have succeeded than encouraging people who have not.
When students cheat on exams it's because our school system values grades more than students value learning.
Dinosaurs are extinct today because they lacked opposable thumbs and the brainpower to build a space program.