Philip Pullman Quotes
Philip Pullman Quotes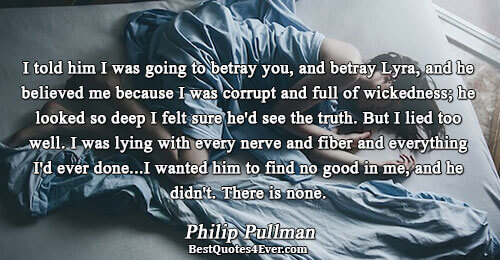 I told him I was going to betray you, and betray Lyra, and he believed me because I was corrupt and full of wickedness; he looked so deep I felt sure he'd see the truth. But I lied too well. I was lying with every nerve and fiber and everything I'd ever done...I wanted him to find no good in me, and he didn't. There is none.
I am a strong believer in the tyranny, the dictatorship, the absolute authority of the writer.
After nourishment, shelter and companionship, stories are the thing we need most in the world.
I write almost always in the third person, and I don't think the narrator is male or female anyway. They're both, and young and old, and wise and silly, and sceptical and credulous, and innocent and experienced, all at once. Narrators are not even human - they're sprites.
There's been terrible things we seen, en't there? And more a coming, more'n likely. So I think I'd rather not know what's in the future. I'll stick to the present.
You cannot change what you are, only what you do.
If you want something you can have it, but only if you want everything that goes with it, including all the hard work and the despair, and only if you're willing to risk failure.
You don't win races by wishing, you win them by running faster than everyone else does.
That's the duty of the old, to be anxious on behalf of the young. And the duty of the young is to scorn the anxiety of the old.
We shouldn't live as if [other worlds] mattered more than this life in this world, because where we are is always the most important place.
When you live for many hundreds of years, you know that every opportunity will come again.
We don't need a list of rights and wrongs, tables of dos and don'ts: we need books, time, and silence. Thou shalt not is soon forgotten, but Once upon a time lasts forever.
There's a hunger for stories in all of us, adults too. We need stories so much that we're even willing to read bad books to get them, if the good books won't supply them.
As for what it's against - the story is against those who pervert and misuse religion, or any other kind of doctrine with a holy book and a priesthood and an apparatus of power that wields unchallengeable authority, in order to dominate and suppress human freedoms.
Her last conscious thought was disgust at life; her senses had lied to her. The world was not made of energy and delight but of foulness, betrayal, and lassitude. Living was hateful, and death was no better, and from end to end of the universe this was the first and last and only truth.
When you choose one way out of many, all the ways you don't take are snuffed out like candles, as if they'd never existed.
Maybe sometimes we don't do the right thing because the wrong thing looks more dangerous, and we don't want to look scared, so we go and do the wrong thing just because it's dangerous. We're more concerned with not looking scared than with judging right.
People should decide on the books' meanings for themselves. They'll find a story that attacks such things as cruelty, oppression, intolerance, unkindness, narrow-mindedness, and celebrates love, kindness, open-mindedness, tolerance, curiosity, human intelligence.
All good things pass away.
I am a religious person, although I am not a believer.
Religion begins in story. Yes, it does, because religion is an attempt to make sense of what is incomprehensible to us, what is inexplicable, what is awe-inspiring, what is frightening, what moves us to great wonder, and so on. That is the religious impulse, and it is part of our psychological makeup - of everyone's psychological makeup.
Every advance in human life, every scrap of knowledge and wisdom and decency we have has been torn by one side from the teeth of the other. Every little increase in human freedom has been fought over ferociously between those who want us to know more and be wiser and stronger, and those who want us to obey and be humble and submit.
Religion grants its adherents malign, intoxicating and morally corrosive sensations. Destroying intellectual freedom is always evil, but only religion makes doing evil feel quite so good.
I have stolen ideas from every book I have ever read.
One moment several things are possible, the next moment only one happens, and the rest don't exist. Except that other worlds have sprung into being, on which the did happen.
There is time, and there is what is beyond time. History belongs to time, but truth belongs to what is beyond time.
There's a hunger for stories in all of us, adults too. We need stories so much that we're even willing to read bad books to get them, if the good books won't supply them.
she delighted in being of the same substance as them, and in knowing that when she died her flesh would nourish other lives as they had nourished her.
We feel cold, but we don't mind it, because we will not come to harm. And if we wrapped up against the cold, we wouldn't feel other things, like the bright tingle of the stars, or the music of the aurora, or best of all the silky feeling of moonlight on our skin. It's worth being cold for that.
He let her do it, then looked around for his fingers. There they were, curled like a bloody quotation mark on the lead. He laughed.
Lyra marveled at the effect hope could have.
If there is a war to be fought, we don't consider cost one of the factors in deciding whether or not to fight.
People are too complicated to have simple labels.
And I came to believe that good and evil are names for what people do, not for what they are. All we can say is that this is a good deed, because it helps someone or that's an evil one because it hurts them. People are too complicated to have simple labels.
I don't like rats any more than the next bloke, but they ain't wicked and cruel like people can be. They're just ratty in their habits.
For a human being, nothing comes naturally,' said Grumman. 'We have to learn everything we do.