Chuck Klosterman Quotes
Chuck Klosterman Quotes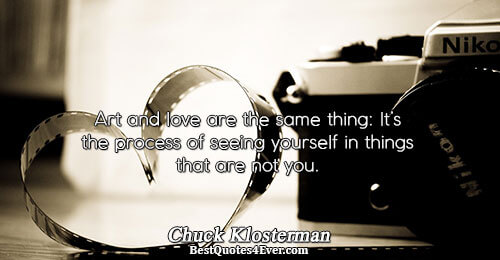 Art and love are the same thing: It's the process of seeing yourself in things that are not you.
Anybody who says they are a good liar obviously is not, because any legitimately savvy liar would always insist they're honest about everything.
Women intrinsically understand human dynamics, and that makes them unstoppable. Unfortunately, the average man is less adroit at fostering such rivalries, which is why most men remain average; males are better at hating things that can't hate them back (e.g., lawnmowers, cats, the Denver Broncos, et cetera). They don't see the big picture.
Do you know people who insist they like 'all kinds of music'? That actually means they like no kinds of music.
There are two ways to look at life. The first view is that nothing stays the same and that nothing is inherently connected, and that the only driving force in anyone's life is entropy. The second is that everything pretty much stays the same (more or less) and that everything is completely connected, even if we don't realize it.
If rain is God crying, I think God is drunk and his girlfriend just slept with Zeus.
I suppose we'll never know what really happened in that room, though he did tell police, "I did it because I'm a dirty dog." This is not a very convincing alibi. He may as well have said, "I got 99 problems, but a bitch ain't one.
421Life is fucking confusing. I don't know anything, and neither do you.
Life is fucking confusing. I don't know anything, and neither do you.
It appears that countless women born between the years of 1965 and 1978 are in love with John Cusack. I cannot fathom how he isn't the number-one box office star in America, because every straight girl I know would see her soul to share a milkshake with that motherfucker.
Some say that time is like water that flows around us (like a stone in the river) and some say we flow with time (like a twig floating on the surface of the water).
[On political correctness:] Any intended message mattered less than the received message, and every received message could be interpreted in whatever way the receiver wanted.
The deeper reality is that I'm not sure if what I do is real. I usually believe that I'm certain about how I feel, but that seems naive. How do we know how we feel?…There is almost certainly a constructed schism between (a) how I feel, and (b) how I think I feel. There's probably a third level, too - how I want to think I feel.
...because people who talk about their dreams are actually trying to tell you things about themselves they'd never admit in normal conversation. It's a way for people to be honest without telling the truth.
I wake up, I feel the inescapable oppression of the sunlight pouring through my bedroom window, and I am struck by the fact that I am alone. And that everyone is alone. And that everything I understood seven hours ago has already changed, and that I have to learn everything again.
I love the way music inside a car makes you feel invisible; if you plan the stereo at max volume, it's almost like the other people can't see into your vehicle. It tints your windows, somehow.
If I knew I was going to die at a specific moment in the future, it would be nice to be able to control what song I was listening to; this is why I always bring my iPod on airplanes.
If you play "I Don't Want To Know" by Fleetwood Mac loud enough - you can hear Lindsey Buckingham's fingers sliding down the strings of his acoustic guitar. ...And we were convinced that this was the definitive illustration of what we both loved about music; we loved hearing the INSIDE of a song.
It might sound chauvinistic, but there is a sad reality in rock music: Bands who depend on support from females inevitably crash and burn.
The most wretched people in the world are those who tell you they like every kind of music 'except country.
I've had the great pleasure of meeting Newt Gingrich and having a chat with the fellow on a staircase," ex–Sex Pistols vocalist John Lydon once told Rolling Stone. "I found him completely dishonest and totally likable, because he doesn't care.
Hitler is the human catch-all for all other terrible humans.
As recently as the grunge era, there remained a bohemian cachet in casually mentioning that you didn't own a TV. But nobody thinks like that anymore. Today, claiming you don't own a TV simply means you're poor (or maybe depressed). In one ten-year span, high-end television usurped the cultural positions of film, rock, and literary fiction.
...I've spent the last fifteen years of my life railing against the game of soccer, an exercise that has been lauded as "the sport of the future" since 1977. Thankfully, that future dystopia has never come.