Douglas Coupland Quotes
Douglas Coupland Quotes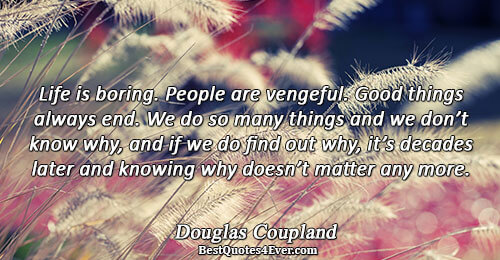 Life is boring. People are vengeful. Good things always end. We do so many things and we don't know why, and if we do find out why, it's decades later and knowing why doesn't matter any more.
Remember: the time you feel lonely is the time you most need to be by yourself. Life's cruelest irony.
She thought about her life and how lost she'd felt for most of it. She thought about the way that all truths she'd been taught to consider valuable invariably conflicted with the world as it was actually lived. How could a person be so utterly lost, yet remain living?
Inasmuch as I am a spiritual man, I do believe in God - I think that He created an
order for the world; I believe that, in constantly bombarding Him with requests for miracles,
we're also asking that He unravel the fabric of the world. A world of continuous miracles
would be a cartoon, not a world.
You keep waiting for the moral of your life to become obvious, but it never does. Work, work, work: No moral. No plot. No eureka! Just production schedules and days. You might as well be living inside a photocopier. Your lives are all they're ever going to be.
It's so hard to balance in our minds the knowledge that 'the world' is mundanely 'a planet.' The former is so holy; the latter merely a science project.
TV and the Internet are good because they keep stupid people from spending too much time out in public.
Time ticks by; we grow older. Before we know it, too much time has passed and we've missed the chance to have had other people hurt us. To a younger me this sounded like luck; to an older me this sounds like a quiet tragedy.
We are all of us born with a letter inside us, and that only if we are true to ourselves, may we be allowed to read it before we die.
I don't deserve a soul, yet I still have one. I know because it hurts.
...we're told by TV and Reader's Digest that a crisis will trigger massive personal change-and that those big changes will make the pain worthwhile. But from what he could see, big change almost never happens. People simply feel lost. They have no idea what to say or do or feel or think. they become messes and tend to remain messes.
You've seen what you've seen; you've felt what you've felt. Ideology is for people who don't trust their own experiences and perceptions of the world.
At least there's nothing scary about him and hopefully he doesn't see anything scary in me. We go way back, to summer camp. We KNOW each other. People I don't know just make me want to say YIKES! I'll take history over mystery any day of the week.
I think that every reader on earth has a list of cherished books as unique as their fingerprints....I think that, as you age, you tend to gravitate towards the classics, but those aren't the books that give you the same sort of hope for the world that a cherished book does.
Books turn people into isolated individuals, and once that's happened, the road only grows rockier. Books wire you to want to be Steve McQueen, but the world wants you to be SMcQ23667bot@hotmail.com.
You know what the best thing is about the end of the day? Tomorrow, it starts all over again.
Ray, don't get mad just because I say yes to life. I like to keep myself available to the universe, because it brings me wisdom. Maybe you don't just want me to soar.
Maybe the more emotions a person experiences in their daily lives, the longer time seems to feel to them. As you get older, you experience fewer new things, and so time seems to go by faster.
Chronocanine Envy:
Sadness experienced when one realized that, unlike one's dog, one cannot live only in the present tense. As Kierkegaard said, "Life must be lived forward.
We can no longer create the feeling of an era...of time being particular to one spot in time.
Is that all time is - our perception of how quickly it does or does not pass?
Chronotropic Drugs:
Drugs engineered to affect one's sense of time. Chronodecelocotropic drugs have no short term effect but over time give one the impression that time feels longer. Chronoaccelocotropic drugs have the opposite effect.
Humans are part of nature, and nature is one great big wood chipper. Sooner or later, everything shoots out the other end in a spray of blood, bones, and hair.
The world was so unbearably pretty, and it continued being so all the way down the mountain to school. I felt slightly high because of the beauty, and the inside of my head tickled. I wondered if this is how artists go through life, with all of its sensations tickling their craniums like a peacock feather..
All families are psychotic. Everybody has basically the same family - it's just reconfigured slightly different from one to the next.
In periods of rapid personal change, we pass through life as though we are spellcast. We speak in sentences that end before finishing. We sleep heavily because we need to ask so many questions as we dream alone. We bump into others and feel bashful at recognizing souls so similar to ourselves.
And then I felt sad because I realized that once people are broken in certain ways, they can't ever be fixed, and this is something nobody ever tells you when you are young and it never fails to surprise you as you grow older as you see the people in your life break one by one. You wonder when your turn is going to be, or if it's already happened.
I don't think anyone ever gets over anything in life; they merely get used to it.
I'd sooner have died than admit that the most valuable thing I owned was a fairly extensive collection of German industrial music dance mix EP records stored for even further embarrassment under a box of crumbling Christmas tree ornaments in a Portland, Oregon basement. So I told him I owned nothing of any value.
It is indeed a mistake to confuse children with angels