H.P. Lovecraft Quotes
H.P. Lovecraft Quotes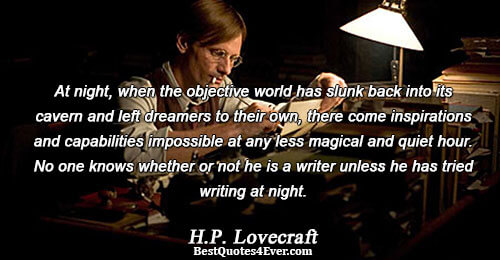 At night, when the objective world has slunk back into its cavern and left dreamers to their own, there come inspirations and capabilities impossible at any less magical and quiet hour. No one knows whether or not he is a writer unless he has tried writing at night.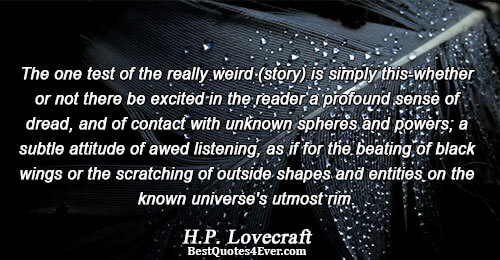 The one test of the really weird (story) is simply this-whether or not there be excited in the reader a profound sense of dread, and of contact with unknown spheres and powers; a subtle attitude of awed listening, as if for the beating of black wings or the scratching of outside shapes and entities on the known universe's utmost rim.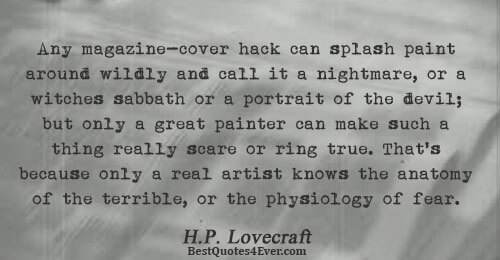 Any magazine-cover hack can splash paint around wildly and call it a nightmare, or a witches sabbath or a portrait of the devil; but only a great painter can make such a thing really scare or ring true. That's because only a real artist knows the anatomy of the terrible, or the physiology of fear.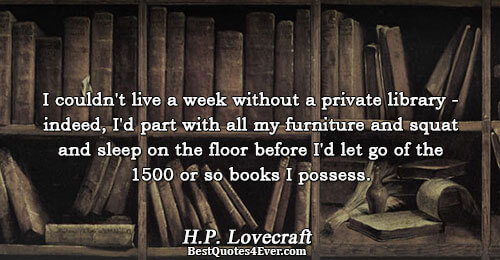 I couldn't live a week without a private library - indeed, I'd part with all my furniture and squat and sleep on the floor before I'd let go of the 1500 or so books I possess.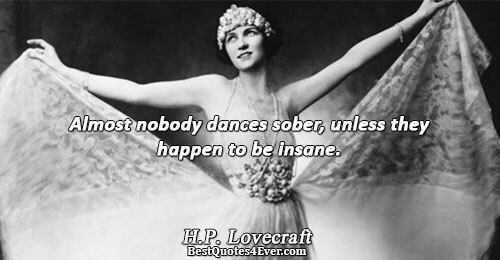 Almost nobody dances sober, unless they happen to be insane.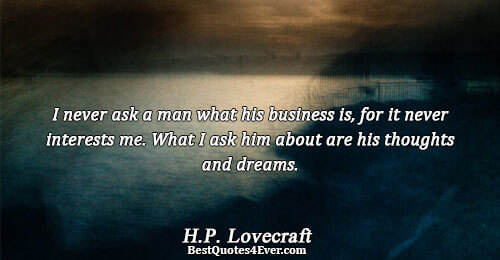 I never ask a man what his business is, for it never interests me. What I ask him about are his thoughts and dreams.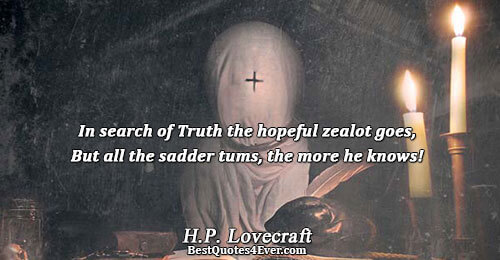 In search of Truth the hopeful zealot goes,
But all the sadder tums, the more he knows!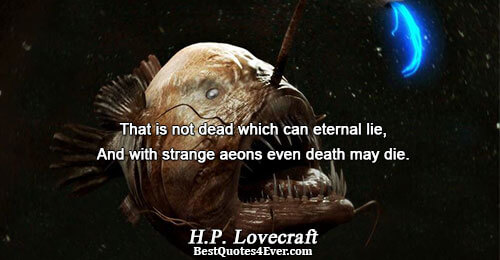 That is not dead which can eternal lie,
And with strange aeons even death may die.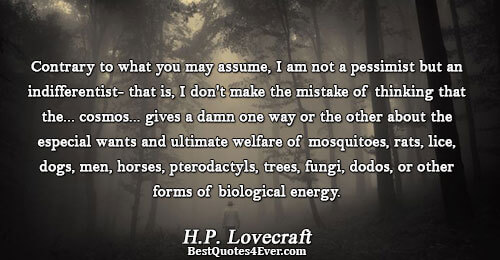 Contrary to what you may assume, I am not a pessimist but an indifferentist- that is, I don't make the mistake of thinking that the... cosmos... gives a damn one way or the other about the especial wants and ultimate welfare of mosquitoes, rats, lice, dogs, men, horses, pterodactyls, trees, fungi, dodos, or other forms of biological energy.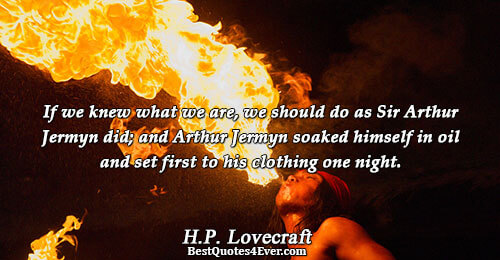 If we knew what we are, we should do as Sir Arthur Jermyn did; and Arthur Jermyn soaked himself in oil and set first to his clothing one night.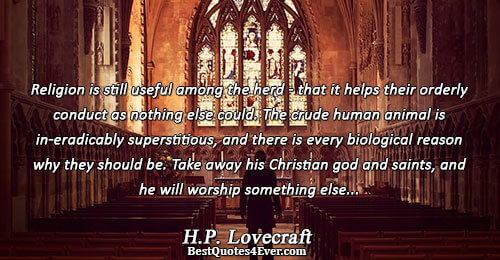 Religion is still useful among the herd - that it helps their orderly conduct as nothing else could. The crude human animal is in-eradicably superstitious, and there is every biological reason why they should be.
Take away his Christian god and saints, and he will worship something else...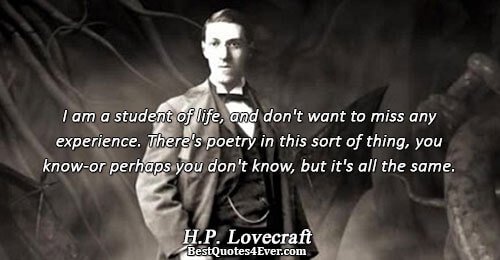 I am a student of life, and don't want to miss any experience. There's poetry in this sort of thing, you know-or perhaps you don't know, but it's all the same.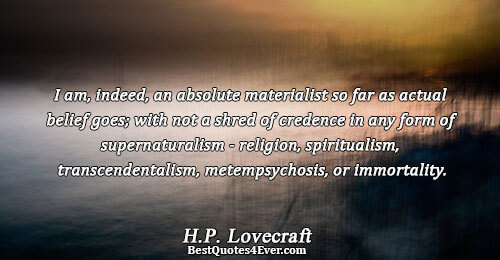 I am, indeed, an absolute materialist so far as actual belief goes; with not a shred of credence in any form of supernaturalism - religion, spiritualism, transcendentalism, metempsychosis, or immortality.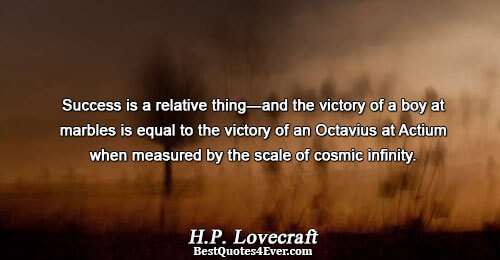 Success is a relative thing―and the victory of a boy at marbles is equal to the victory of an Octavius at Actium when measured by the scale of cosmic infinity.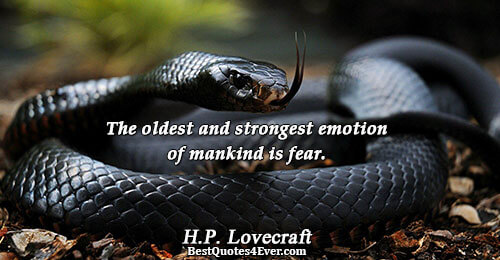 The oldest and strongest emotion of mankind is fear.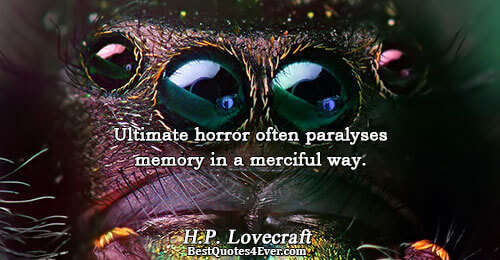 Ultimate horror often paralyses memory in a merciful way.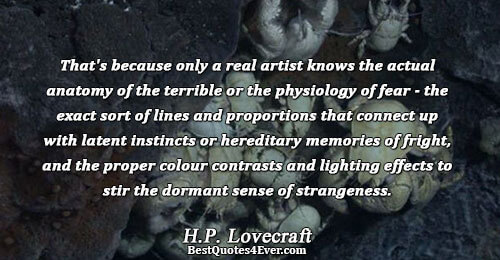 That's because only a real artist knows the actual anatomy of the terrible or the physiology of fear - the exact sort of lines and proportions that connect up with latent instincts or hereditary memories of fright, and the proper colour contrasts and lighting effects to stir the dormant sense of strangeness.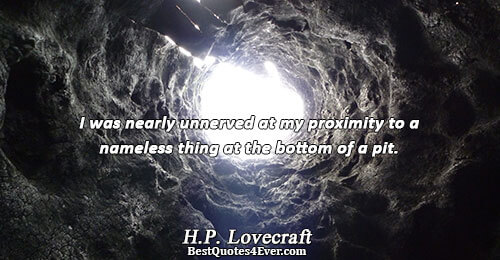 I was nearly unnerved at my proximity to a nameless thing at the bottom of a pit.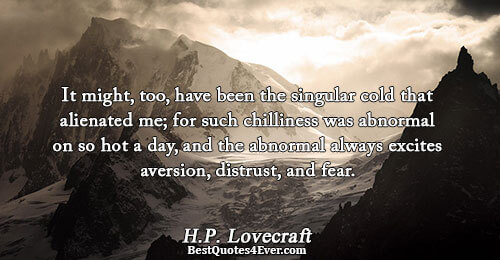 It might, too, have been the singular cold that alienated me; for such chilliness was abnormal on so hot a day, and the abnormal always excites aversion, distrust, and fear.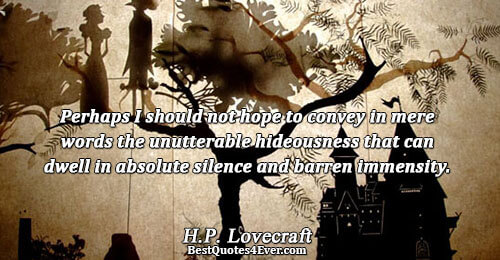 Perhaps I should not hope to convey in mere words the unutterable hideousness that can dwell in absolute silence and barren immensity.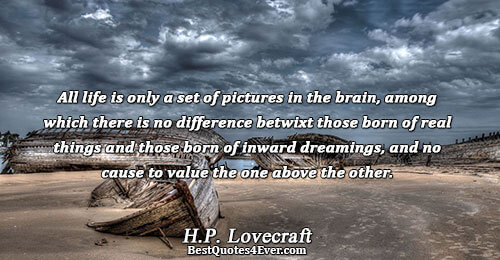 All life is only a set of pictures in the brain, among which there is no difference betwixt those born of real things and those born of inward dreamings, and no cause to value the one above the other.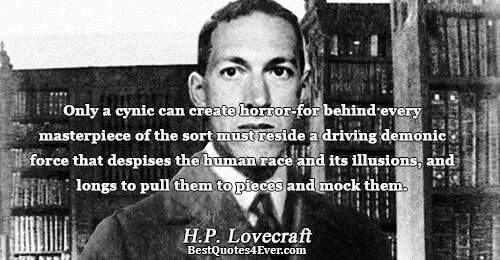 Only a cynic can create horror-for behind every masterpiece of the sort must reside a driving demonic force that despises the human race and its illusions, and longs to pull them to pieces and mock them.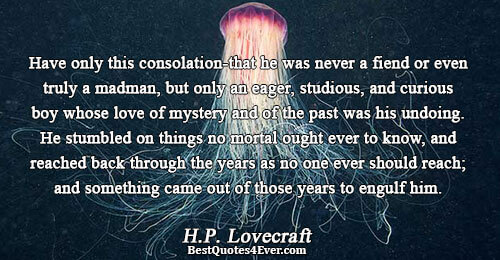 Have only this consolation-that he was never a fiend or even truly a madman, but only an eager, studious, and curious boy whose love of mystery and of the past was his undoing. He stumbled on things no mortal ought ever to know, and reached back through the years as no one ever should reach; and something came out of those years to engulf him.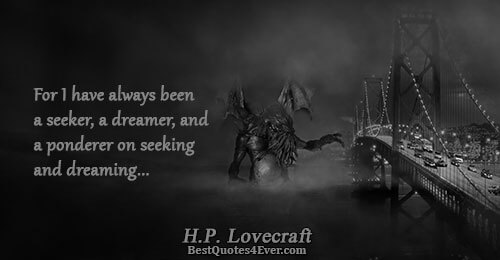 For I have always been a seeker, a dreamer, and a ponderer on seeking and dreaming...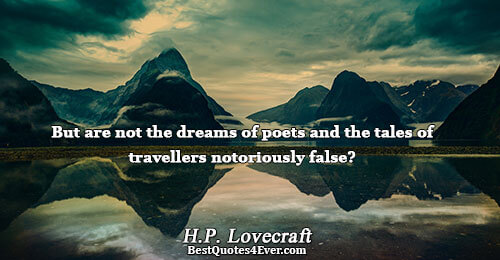 But are not the dreams of poets and the tales of travellers notoriously false?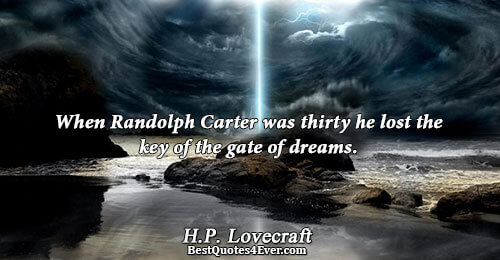 When Randolph Carter was thirty he lost the key of the gate of dreams.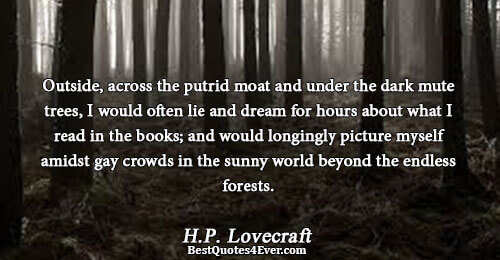 Outside, across the putrid moat and under the dark mute trees, I would often lie and dream for hours about what I read in the books; and would longingly picture myself amidst gay crowds in the sunny world beyond the endless forests.
I neither knew nor cared whether my experience was insanity, dreaming, or magic; but was determined to gaze on brilliance and gaiety at any cost.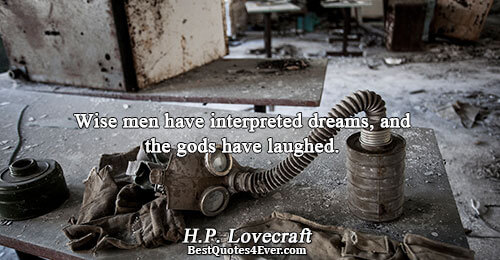 Wise men have interpreted dreams, and the gods have laughed.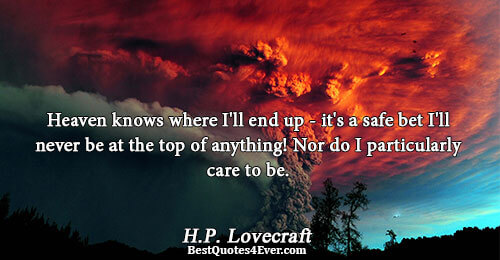 Heaven knows where I'll end up - it's a safe bet I'll never be at the top of anything! Nor do I particularly care to be.