Helen Rowland Quotes
Helen Rowland Quotes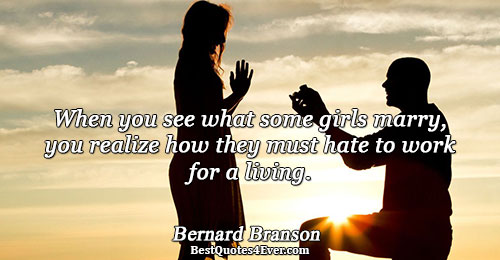 When you see what some girls marry, you realize how they must hate to work for a living.
a wise woman puts a grain of sugar in everything she says to a man, and takes a grain of salt with everything he says to her.
A woman's flattery may inflate a man's head a little; but her criticism goes straight to his heart, and contracts it so that it can never again hold quite as much love for her.
When a girl marries, she exchanges the attention of many men for the inattention of one.
A bride at her second marriage does not wear a veil. She wants to see what she is getting.
In olden times sacrifices were made at the altar - a practice which is still continued.
Marriage is like twirling a baton, turning hand springs or eating with chopsticks. It looks easy until you try it.
Never worry for fear you have broken a man's heart; at the worst it is only sprained and a week's rest will put it in perfect working condition again.
Results for "A man is like a cat; chase him and he'll run; sit still and ignore him and he'll come purring at your feet