Greg Behrendt Quotes
Greg Behrendt Quotes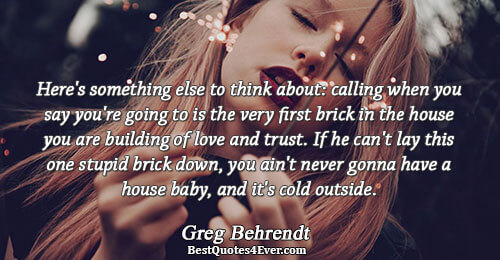 Here's something else to think about: calling when you say you're going to is the very first brick in the house you are building of love and trust. If he can't lay this one stupid brick down, you ain't never gonna have a house baby, and it's cold outside.
You picked a lemon, throw it away lemonade is overrated. Freaks should remain at the circus, not in your apartment. You already have one asshole. You don't need another. Make a space in your life for the glorious things you deserve. Have faith.
When it comes to men, deal with them as they are, not how you'd like them to be.
I believe in love the verb, not the noun.
There will never be a good time, financially, to get married, unless you're Shaq or Ray Romano. But somehow people manage. If your man is using money as an excuse not to marry you, it's your relationship that's insecure, not his bank account.
Busy' is another word for 'asshole'. 'Asshole' is another word for the guy you're dating.
Cheaters never prosper. (Because they suck.)
..he may love you, he may miss you, but ultimately he's just not that into you.
He doesn't need to be reminded you're great.
He doesn't have to love your CD collection. He doesn't have to love your shoes. But any good, mature guy better make an attempt to love your friends and family - especially when they're great.
The quickest way to rectify that mistake (choosing the wrong person) is by learning from that, moving on, and choosing much more wisely in the future.
First of all, never buy a man a plasma TV until you're married. A lot of men once they have a plasma TV they don't need a girlfriend
We (men) would rather lose an arm out a city bus window than tell you simply, "You're not the
one." We are quite sure you will kill us or yourself or both - or even worse, cry and yell at us.