Sol Luckman Quotes
Sol Luckman Quotes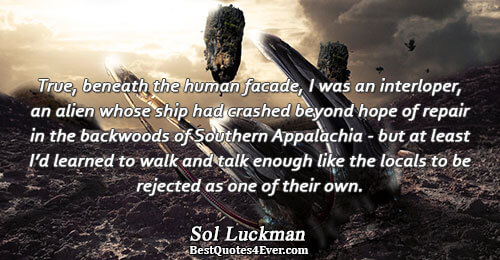 True, beneath the human façade, I was an interloper, an alien whose ship had crashed beyond hope of repair in the backwoods of Southern Appalachia - but at least I'd learned to walk and talk enough like the locals to be rejected as one of their own.
The Adventure called and I followed with my thumb like a character being written by an intractable author. Which, of course, I was.
Home. The word circled comfortably in my mouth like bubble gum, swished around sweetly soft and satisfying. Home. Try saying it aloud to yourself. Home. Isn't it like taking a bite of something lovely? If only we could eat words.
I am, as it were, the created creating - a paradox, for all its rhetorical trappings, at the beating heart of our shared human journey, and one I invite you to struggle with just as I have while, day in and day out, word by word and line by line, constructing a fictitious autobiography for myself in these pages.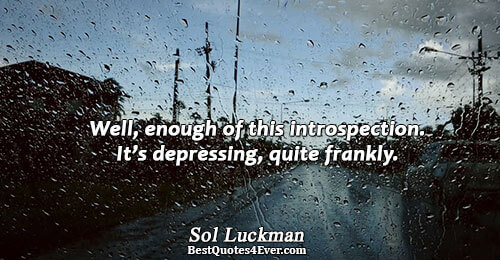 Well, enough of this introspection. It's depressing, quite frankly.
The evidence never seemed to matter to those in power, who had already made up their minds and did what people typically do when their worldview is threatened by new data: they attacked the messenger.
In the spirit of the Alpha and the Omega, in the way the Alpha was the
Omega, and vice versa, he knew the beginning was also the end - and that the end was just another beginning.
Such is life, imaginary or otherwise: a continuous parting of ways, a constant flux of approximation and distanciation, lines of fate intersecting at a point which is no-time, a theoretical crossroads fictitiously 'present,' an unstable ice floe forever drifting between was and will be.
Life is too short to waste being a productive member of society.
I wasn't sure what was going on or what time it was or where I was or even, for that matter, who I was ... but my gut told me something was terribly wrong.
Worry wasn't an emotion to which he was particularly accustomed - and it worried him.
Max never intended to be messy with his writing, which he could read just fine, years later if necessary, even if his teachers couldn't. He merely found that his active mind tended to move too fast for his hand to keep up with.
The scene sucker-punched Max. He never saw it coming. It encapsulated in one poignant instant the tragic beauty of his family history.
In his mother's honor, vowing not to commit the "fashionable stupidity" of ignoring things he didn't understand, Max performed a brave act of nonconformity by accepting the possibility that his dreams might be exactly what they seemed: real.
I'm arguably the least real of all my characters, a state of affairs for which I make no apologies, being, indeed, altogether proud of the fact.
The beauty of a metaphor is it doesn't have to be real to ring true. The instant a metaphor becomes true it ceases to be a metaphor, which suggests a disconnect between truth and what's commonly referred to as reality.
Begging is much more difficult than it looks. Contrary to popular belief, it's a high art form that takes years of dedicated practice to master.
He knew perfectly well (even if he wasn't inclined to admit it) that the material body had a spiritual aspect. He knew that "spirit," however explained, was real, because of his own undeniable experiences - which, though he might suppress them, he couldn't altogether erase from memory.
Flying in his dreams was an exhilarating, breathtaking experience, sometimes literally, that tended to leave reality wanting, like riding a roller coaster compared to mowing the lawn.
Down below people were clipping by going nowhere fast. You could feel the long despairing history of the place. You could actually hear it, a low hum like the buzz of a sick bee that resonated with the fragments of a million broken dreams.
I just want to live my own life instead of everyone else's version of it.
Nothing bonds two solitary individuals like a good shared drunk. This is a scientific fact. It's important, even necessary for the long-term welfare of the planet to get good and shit-faced with your neighbor every now and then.
It takes money to make money, even begging. Humans are herd animals. If a stranger's bleeding to death beside the road, most people won't stop to offer a Band-Aid. But get the ball rolling with a couple Good Samaritans, and before you know it you've got more eager philanthropists than you know what to do with.
It was a rotten time to try to be a man in America. Until Blue came along I'd never even spent time around a man. Hell, I'd never even seen one. Where were all the men in this once great land?